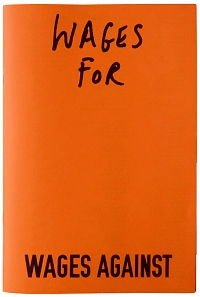 Criticism/Theory
First Edition
Zine
43 pages
Texts in English
New
EUR 5
ORDER
Ramaya Tegegne, WAGES FOR WAGES AGAINST, Kunsthalle Zürich, 2017
"They say it is love. We say it is unwaged work."

WAGES FOR WAGES AGAINST is a campaign that aims for the general payment of artist fees by non-profit art institutions within Switzerland. This publication gathers transcripts of interviews on artist fees conducted by Ramaya Tegegne with Judith Welter, Balthazar Lovay, Bea Schlingelhoff, Harry Burke and Lise Soskolne.

Produced in conjuction with the exhibition Speak, Lokal at Kunsthalle Zürich, March 4 - May 7, 2017.

http://wagesforwagesagainst.org/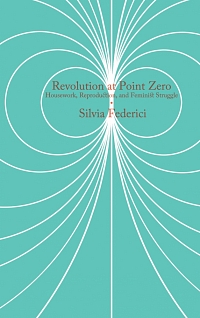 Criticism/Theory
Softcover
189 pages
Texts in English
New
EUR 22
out of stock
Silvia Federici, Revolution at Point Zero: Housework, Reproduction, and Feminist Struggle, PM Press, 2012
Written between 1974 and 2012, Revolution at Point Zero collects forty years of research and theorizing on the nature of housework, social reproduction, and women's struggles on this terrain—to escape it, to better its conditions, to reconstruct it in ways that provide an alternative to capitalist relations.
Indeed, as Federici reveals, behind the capitalist organization of work and the contradictions inherent in "alienated labor" is an explosive ground zero for revolutionary practice upon which are decided the daily realities of our collective reproduction.
Beginning with Federici's organizational work in the Wages for Housework movement, the essays collected here unravel the power and politics of wide but related issues including the international restructuring of reproductive work and its effects on the sexual division of labor, the globalization of care work and sex work, the crisis of elder care, the development of affective labor, and the politics of the commons.
Fiction
First Edition
Softcover
248 pages
Texts in English
New
EUR 21
ORDER
Mark Von Schlegell, Venusia, Semiotext(e), 2005
Primitive literacy is redundant. Mere words are expelled. We inaugurate a world of pure presence. The mind, that intrudes itself between ourselves and those memories too terrible to know, must keep us moving beyond the grasp of their claw. To control the flow, it will be necessary that political order be imposed always temporarily. The state shall enjoy direct, creative access to the real.It's the end of the twenty-third century. Earth has violently self-destructed. Venusia, an experimental off-world colony, survives under the enlightened totalitarianism of the Princeps Crittendon regime. Using industrialized narcotics, holographic entertainment, and memory control, Crittendon has turned Venusia into a self-sustaining system of relative historical inertia. But when mild-mannered junk dealer Rogers Collectibles finds a book about early Venusian history, the colony -- once fully immersed in the present -- begins losing its grip on the real. With his Reality-V girlfriend Martha Dobbs, neuroscop operator Sylvia Yang, his midget friend Niftus Norrington, and a sentient plant, Rogers wages a war to alter the shape of spacetime, and in the process, revisions the whole human (and vegetable) condition.