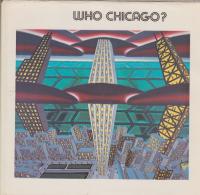 Exhibition catalogue
First Edition
Hardcover
216 pages
21 x 21 cm
Texts in English
The dust cover is used, but the inside is in perfect condition
EUR 40
out of stock
Who Chicago?, Sunderland Arts Centre, Ceolfrith Gallery, 1980
The genesis of this book is an exhibition of the ten artists now widely called "Chicago Imagists" and four of their antecedents. It amply demonstrates that 'during the last fifteen years a unique art has developed in Chicago. It is the product of a group of artists working in association with each other and sharing certain assumptions about the making of art; it is a movement. This group of artists, despite varying individual modes, produces work with a certain common formal and expressive characteristics; it is a style. While this style undoubtedly belongs to a certain tradition and owes seomthing to artistic attitudes prevalent among earlier Chicago artists, it does not resemble anything that came before it, not in Chicago, not elsewhere.
The interest of this art lies not only in the extraordinary vitality, originality and import of the works themselves, but also in the degree to which apsects of this style have gained currency as art moves into the 80's.'
(exerpted from introduction essay by Russel Bowman)

Artists in the show: Roger Brown, James Falconer, Art Green, Philip Hanson, Gladys Nilsson, Jim Nutt, Ed Paschke, Christina Ramberg, Suellen Rocca, Barbara Rossi, H. C. Westermann, Karl Wisum, Joseph Yoakum, Ray Yoshida.