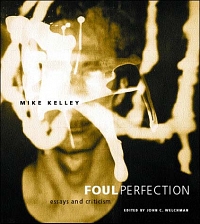 Criticism/Theory
First Edition
Softcover
208 pages
Texts in English
New
EUR 34
out of stock
Mike Kelley, Foul Perfection: Essays and Criticism, MIT Press, 2003
This book offers a diverse collection of Kelley's writings from the last twenty-five years. It contains major critical texts on art, film, and the wider culture, including his piece on the aesthetic he calls "urban Gothic." It also contains essays, mostly commissioned for exhibition catalogs and journals, on the artists and groups David Askevold, Öyvind Fahlström, Douglas Huebler, John Miller, Survival Research Laboratories, and Paul Thek, among others. Kelley's voices are passionate, analytic, and ironic, and his critical intelligence is leavened with touches of whimsy.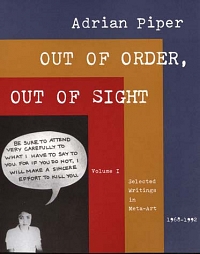 Criticism/Theory
Soft cover, perfect binding
416 pages
Texts in English
New
EUR 35
out of stock
Adrian Piper, Out of Order, Out of Sight, MIT Press, 1999
Adrian Piper joins the ranks of writer-artists who have provided much of the basic and most reliable literature on modern and contemporary art. Out of Order, Out of Sight is an artistic and intellectual autobiography and an (occasionally scathing) commentary on mainstream art, art criticism, and American culture of the last twenty-five years.
Piper is an internationally recognized conceptual artist and the only African American in the early conceptual art movement of the 1960s. The writings in Out of Order, Out of Sight trace the development of her thinking about her artwork and the art world, and her evolving awareness of herself as a creative, racial, and gendered subject situated in an often limiting and always absurd cultural and social context.
Criticism/Theory
Softcover
301 pages
Texts in English
New
EUR 29
out of stock
Douglas Crimp, Melancholia and Moralism: Essays on AIDS and Queer Politics, MIT Press, 2004
In Melancholia and Moralism, Crimp confronts the conservative gay politics that replaced the radical AIDS activism of the late 1980s and early 1990s. He shows that the cumulative losses from AIDS, including the waning of militant response, have resulted in melancholia as Freud defined it: gay men's dangerous identification with the moralistic repudiation of homosexuality by the wider society.
With the 1993 march on Washington for lesbian and gay rights, it became clear that AIDS no longer determined the agenda of gay politics; it had been displaced by traditional right issues such as gay marriage and the right to serve in the military. Journalist Andrew Sullivan, notorious for pronouncing the AIDS epidemic over, even claimed that once those few rights had been won, the gay rights movement would no longer have a reason to exist.

Crimp challenges such complacency, arguing that not only is the AIDS epidemic far from over, but its determining role in queer politics has never been greater.