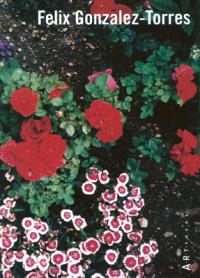 Monograph
First Edition
Soft cover, perfect binding
160 pages
Texts in English
New
EUR 45
out of stock
Felix Gonzales-Torres, Felix Gonzales–Torres, A.R.T. Press, 1994
Interviewed by Tim Rollins, essays by Susan Cahan and Jan Avgikos
Felix Gonzales-Torres is best known for installations and public artworks that invite the viewer's direct participation. In this interview Gonzales-Torres talks about his commitment to social change and his understanding of his role as an artist in effecting that change.
Gonzalez-Torres: "I wanted to make a show that would disappear completely. It had a lot to do with disappearance and learning. It was also about trying to be a threat to the art-marketing system, and also, to be really honest, it was about being generous to a certain extent. […] Freud said that we rehearse our fears in order to lessen them. In a way this "letting go" of the work – this refusal to make a static form, a monolithic sculpture, in favor of a disappearing, changing, unstable, and fragile form – was an attempt on my part to rehearse my fears of having Ross disappear day by day right in front of my eyes."
First Edition
Softcover
64 pages
Texts in English
New
EUR 30
out of stock
John Miller, Mike Kelley, A.R.T. Press, 1993
Mike Kelley interviewed by John Miller.

Mike Kelley's iconoclastic artwork assails the sunshine fantasy of the "normal" family. In an extended and intelligent interview profusely illustrated with performance stills, reproductions, and installation shots, Kelley discusses the development of his work, his interest in pop culture, and the influence of crafts on his work.