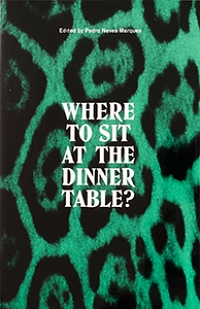 Criticism/Theory
First Edition
Softcover
600 pages
20 x 13 cm
Texts in English
New
EUR 26
ORDER
Pedro Neves Marques, The Forest & the School – Where to Sit at the Dinner Table?, Archive Books, 2015
An anthology interrogating the concept of antropofagia in Brazilian thought and its philosophical, ecological, and cosmopolitical influence.

To eat a frog, the missionary Jesuit priest, the enemy tribe, the whole history of colonial domination in South America, is to serve your ancestor at a dinner table, without nostalgia, for what you are digesting is your future as a human—and that includes a frog-future as well. In the Sixteenth century, the image of Amerindian anthropophagy was at the center of disputes on the meaning of humanity. In the early Twentieth century, it was again re-discovered by the Brazilian avant-garde associated with the imprint Revista de Antropofagia. Antropofagia is a cosmopolitical philosophy, a cannibal metaphysics extending well beyond a pacifying, multicultural view of appropriation. Eating another human is to cross the ontological boundaries imposed by Western modernity, capitalist labor, the Cartesian-Freudian self. Nature and culture are in the perspective of the hunter and the hunted. To become prey is the movement of humanity.

The bookgathers texts from sixteenth century chronicles on cannibalism, the Brazilian avant-garde, the multinaturalist perspectivism, the declaration of the Rights of Nature, the centrality of the indigenous in current political struggles, as well as Tropicália. With texts by Hans Staden, Jean de Léry, Michel de Montaigne, James Frazer, Manuela Carneiro da Cunha, Alfred Jarry, Oswald de Andrade, Antônio de Alcântara Machado, Oswald Costa, Freuderico, Japy-Mirim Poronominare, Garcia de Rezende, Raul Bopp, Flávio de Carvalho, Glauber Rocha, Joaquim Pedro de Andrade, Hélio Oiticica, Hélène Clastres, Pierre Clastres, Félix Guattari, Eduardo Viveiros de Castro, Bruno Latour, Davi Kopenawa and Bruce Albert, Tânia Stolze Lima, Alexandre Nodari, Jean Tible, Paulo Tavares, Giuseppe Cocco, Suely Rolnik.
Artist's book
First Edition
Hardcover
Texts in English
New
EUR 35
ORDER
Dan Rees, Catherine Griffiths, Home for Lost Ideas, Archive Books, 2009
Home for Lost Ideas is a publication allowing artists to revisit ideas they left behind. This publication provides a place for the bad, the unfinished, and the impossible ideas that were never realized, a place where these projects could exist alongside each other. It is a collection of abandoned projects, an exhibition that can only be visited through the printed description of the unrealized works.
With contributions from: Marina Abramovic, Franz Ackermann, Eija-Liisa Ahtila, Allora & Calzadilla, Lauren Aston, Annabelle Balch, John Baldessari, Pascale Berthier, Pierre Bismuth, Juliette Blightman, Blood 'n' Feathers, John Bock, Sophie Calle, David Claerbout, Claude Closky, Martin Creed, Nathalie Djurberg, Jason Dodge, Shaun Doyle & Mally Mallinson, Drabble+Sachs, Elin Wikstrom, Elmgreen & Dragset, Chris Evans, Peter Fend, Peter Finnemore, Blue Firth, Rebecca Fortnum, Ryan Gander, Mario Garcia Torres, Andrew Gaston, Kendell Geers, Liam Gillick, Chris Hammond, Nadia Hebson, Isabell Heimerdinger, Tamara Henderson, Sofia Hulten, Andrew Hunt, Dani Jakob, Christian Jankowski, Koo Jeong-A, Janice Kerbel, Jakob Kolding, Tamas Komoroczky, David Krippendorff, Heimo Lattner, Matthieu Laurette, Sharon Lockhart, Benoit Maire, Tom Marioni, Mark McGowan, Jonathan Meese, Michaela Meise, Matthias Mayer, Simon Dybbroe Moller, Jonathan Monk, Hayley Newman, Nils Norman, Paul O'Kane, Ahmet ogut, Simon Patterson, Diego Perrone, Susan Philipsz, Kirsten Pieroth, Steven Pippin, Olivia Plender, Damien Roach, Kirstine Roepstorff, Julian Rosefeldt, Daniel Roth, Anri Sala, Mathew Sawyer, Stefan Schuster, David Shrigley, Allison Smith, Nedko Solakov, Simon Starling, Sue Tompkins, Joep van Liefland, Tris Vonna-Michell, Bedwyr Williams, Jordan Wolfson.