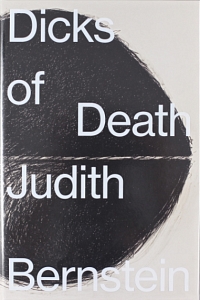 Monograph
First Edition
Hardcover
188 pages
34 x 22 cm
Texts in English
New
EUR 78
ORDER
Judith Bernstein, Dicks of Death, Edition Patrick Frey, 2016
"For over five decades, my most powerful and intense relationship has been with my work. As a graduate student at Yale in the '60s, I began to use the phallus as a metaphor for feminism and male posturing. At the time, Yale was an all-male undergraduate program. I became fascinated with explicit graffiti that I discovered in men's bathrooms, finding inspiration in raw humor and unedited scrawls. Aggression and humor are strongly connected in my work. This is epitomized in my piece "Supercock" (1966), a drawing of a comic superhero with huge genitals ejaculating through the world; and in "Fun-Gun" (1967), an anatomical drawing of a phallus shooting collaged live ammo. My "Fuck Vietnam" series was just the start. Graffiti influences can be traced throughout my entire body of work and in my scatological titles such as "Dicks of Death" (2015). I confront war with very graphic, in-your-face words and images. Stuffed phalluses, blood and semen juxtapose national imagery and the US flag. It's funny – but it's dead serious!"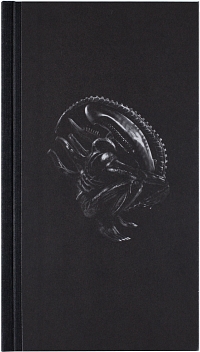 Artist's book, Bootleg
Second Edition
660 pages
24 x 13 cm
New
EUR 120
ORDER
H. R. Giger, Alien Tagebücher / Alien Diaries, Edition Patrick Frey, 2012
HR Giger worked in the Shepperton Studios near London from February to November 1978, creating the figures and sets for the film Alien (1979) directed by Ridley Scott. The film became an international success, earning Giger an Oscar. In the transcribed Alien Diaries, published here for the first time as a facsimile, HR Giger describes his work in the studios. He writes, sketches, and takes photographs with his Polaroid SX70. With brutal honesty, sarcasm and occasional despair, Giger describes what it is like working for the film industry and how he struggles against all odds — be it the stinginess of producers or the sluggishness of his staff — to see his designs become reality. The Alien Diaries (in German transcription with an English translation) show a little-known personal side of the artist HR Giger and offer an unusual, detailed glimpse into the making of a movie classic through the eyes of a Swiss artist. The book contains almost completely unpublished material, including drawings, Polaroids showing the monster coming to life, and several still shots from the plentiful film material that Giger took in Shepperton.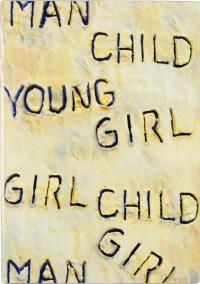 Criticism/Theory
First Edition
Softcover
40 pages
30 x 21 cm
Texts in English
New
EUR 25
ORDER
Anicka Yi, Carissa Rodriguez, Jordan Lord, Lise Soskolne, The Politics of Friendship, Edition Patrick Frey, STUDIOLO, 2013
On July 9, 2013, the web journal The New Inquiry released "Further Materials toward a Theory of the Man-Child" by Mal Ahern and Moira Weigel, and the essay went viral (http://thenewinquiry.com/essays/further-materials-toward-a-theory-of-the-man-child/). Serving up more than one version of what or who possibly lurks behind every Young-Girl (http://libcom.org/files/jeune-fille.pdf & the original text in French: http://www.bloom0101.org/jeunefille.pdf), the essay articulated a term of engagement rampant not only in academia where the authors circulate, but endemic as well in the worlds of contemporary art and its structures of success– a disgracefully sexist field. A solo exhibition by Anicka Yi at STUDIOLO slated for September 2013 evolved into a collaborative project among Anicka Yi, Jordan Lord, Lise Soskolne and Carissa Rodriguez. Yi and Lord's reading of Derrida's The Politics of Friendship became the grounds for a related conversation about responsibility, call and response. The group asked others to respond to Ahern and Weigel's essay in the form of a poster, image, or text to be compiled into a publication.