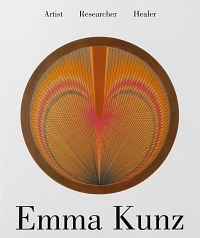 Monograph
Hardcover
Texts in English
New
EUR 71
out of stock
Emma Kunz, Artist, Researcher, Healer, Emma Kunz Zentrum, 2017
"My Art is destined for the 21st Century". This prediction by Emma Kunz dates from 1941. On the threshold of the new century, it inspired the publication of a comprehensive monograph on the life and work of this visionary woman.
Kunz was born to a family of weavers in 1892 in Switzerland. She was not a trained artist; she is characterized as an outsider artist. Her first exhibition, The Case of Emma Kunz, was posthumous. Inspired by spiritual evolution, she divined with a pendulum and created her drawings by radiesthesia.
Said one scholar, in comparing her to other women artists, "Hilma af Klint, Agnes Martin, and Emma Kunz approached geometric abstraction not as formalism, but as a means of structuring philosophical, scientific, and spiritual ideas. Using line, geometry, and the grid, each of these artists created diagrammatic drawings of their exploration of complex belief systems and restorative practices."