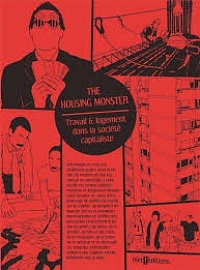 Criticism/Theory
First Edition
Softcover
164 pages
23 x 17 cm
Texts in French
New
EUR 15
ORDER
Prole.info, The Housing Monster. Travail et logement dans la société capitaliste, niet!
« Une maison, ce n'est pas seulement quatre murs et un toit. Depuis sa conception et sa production jusqu'à la façon dont elle vendue, habitée, revendue et finalement démolie, cette baraque ne cesse d'être traversée par des conflits. Depuis le travail sur le chantier jusqu'au quotidien du quartier, forces économiques impersonnelles et conflits très personnels se nourrissent mutuellement. Du béton, de la ferraille, du bois et des clous. De la frustration, de la colère, de la rancœur et du désespoir. Les tragédies individuelles reflètent une tragédie sociale infiniment plus large. »
Après la publication de Guerre de classe en 2005 et À bas les restaurants en 2006, le collectif américain Prole.info se confronte à nouveau avec The Housing Monster, au monstre capitaliste.
Aborder une réalité complexe avec un langage clair et direct n'est pas chose facile. Pourtant, tout au long de ce pamphlet sous forme de roman graphique, les auteurs parviennent à coller à cette nécessité. Ils rendent compte de la place du logement dans le capitalisme et de son interaction avec le travail salarié.