Archi/Design
1968 fac-simile of the 1922 edition
Softcover
274 pages
21 x 14 cm
Texts in French
EUR 17
ORDER
Coll., Under the Rainbow, ECAL, 2018
Ce livre s'inscrit dans un projet de recherche réalisé à l'ECAL, portant un regard critique sur les standards dans le domaine de l'impression offset. Vous trouverez rassemblés ici des textes et des images ayant un lien avec l'impression en couleur et relatant des histoires parfois connues, d'autres oubliées ou certaines encore jamais racontées.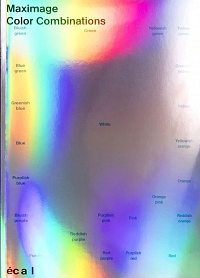 Artist's book
First edition of 500 copies
New
EUR 70
out of stock
Coll., Maximage Color Combinations, ECAL, 2017
This book is a tool for designers, artists and printers who are interested in personalized and unique color palettes. Created using between 2 and 5 spot colors, over 120 combinations were generated directly in the offset press by interfering with the ink unit. This unorthodox color-mixing technique helped to create more than 450 spot colors evolving over the 500 different books, turning each one into a set of totally unique combinations.
The book explores how different colors and hues can interact together, and how they can merge from one to another. Without any chapters or formulas, colors travel from shiny to matte, blue to celadon, frozen to boiling, reflective to absorbent, dark light to brain grey, spectral to metameric, sunshine to neon, from Atlanta to Albertville, or from Leipzig to Juba via Napoli and back again, in an attempt to tell infinite stories.
The user will not find here this year's hot color nor the trends for next season. Rather, each page tells a different story that each user can relate to, reinterpret or reappropriate in their own way.

This publication follows "Maximage Formula Guide" and "Maximage Raster Guide", and is part of the "Workflow" Research Project (R&D). It was conceived and printed during a workshop at ECAL held by Maximage and the printer Thomi Wolfensberger, Zurich.

With the participation of Giacomo Bastianelli, Mélanie Blanc, Victoire Bornhauser, Pauline Brocart, Benoît Brun, Juliette Caillault, Sebastian Davila, Ariane Delahaye, Sarah Di Venosa, Jenny Donnet-Descartes, Loïc Dupasquier, Laurence Favez, Boris Fernandez, Loana Gatti, Clément Gicquel, Marine Giraudo, Amaury Hamon, Pamela Jaton, Valentin Kaiser, Sereina Kessler, Thomas Le Provost, Vidal Mateos, Dimitri Nägele, Sophie Soulié, Laetitia Troilo, Laura-Issé Tusevo, Gwendolyn Ummel, Sabrina Vega and Matthieu Visentin.