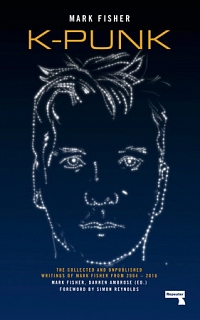 Cultural Studies
Softcover
814 pages
23 x 16 cm
Texts in English
EUR 30
ORDER
Mark Fisher, K-punk. The Collected and Unpublished Writings of Mark Fisher, Repeater, 2018
Edited by Darren Ambrose and with a foreword by Simon Reynolds, this comprehensive collection brings together the very best work of acclaimed blogger, writer, publisher, political activist and lecturer Mark Fisher (aka k-punk) who died in 2017.
Covering the period 2004 – 2016, it includes some of the most incendiary and influential posts from his seminal blog k-punk, as well as a selection of his brilliantly insightful film, television and music reviews, together with his extraordinary writings on politics, activism, precarity, hauntology, mental health and popular modernism for numerous websites and magazines. Also included is his final unpublished k-punk post, the unfinished introduction to his planned book on "Acid Communism", and a number of important interviews from the last decade.
Criticism/Theory
First Edition
Softcover
304 pages
Texts in English
New
EUR 16
out of stock
Sue Clayton, Kodwo Eshun, Green Gartside, Post Punk Then And Now, Repeater, 2016
What were the conditions of possibility for art and music-making before the era of neoliberal capitalism? What role did punk play in turning artists to experiment with popular music in the late 1970s and early 1980s? And why does the art and music of these times seem so newly pertinent to our political present, despite the seeming remoteness of its historical moment?
Focusing upon the production of post-punk art, film, music, and publishing, this book offers new perspectives on an overlooked period ofcultural activity, and probes the lessons that might be learnt from history for artists and musicians working under 21st century conditions of austerity.