Criticism/Theory
First Edition
Staple-bound
24 pages
23 x 15 cm
Texts in English
New
EUR 19
out of stock
Stephen Willats, Random Networks, CONTROL MAGAZINE, 2003
This essay considers the relevance of networks to art practice and how they underpin communication and interpersonal relationships. It re-publishes texts from earlier writings on Systems (1965), Life Structures (1970), A State of Agreement (1973), and The Group as Social Analogue in Art Practice (1976).
Published in 2003 by Artlab in association with Control Magazine.
Criticism/Theory
First Edition
Staple-bound
16 pages
21 x 15 cm
Texts in English
New
EUR 19
out of stock
Stephen Willats, Multichannel Vision, CONTROL MAGAZINE, 2000
An essay by Stephen Willats which considers how our experience and encounters with reality are transient and multi-dimensional and how this impacts on art practice, so that the artwork not only describes existing reality, but is transformational into a world of complexity and exchange.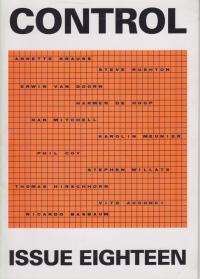 Periodical
First Edition
Softcover
Texts in English
As new
EUR 32
out of stock
Stephen Willats, Control Magazine #18, CONTROL MAGAZINE, 2009
Despite the forwarding of new forms of socially based and engaged art practice by artists, a feature of culture in the last decades has been the ethos surrounding the possession of art objects. Art as property has not only persisted in our culture but has been celebrated and projected as adominate emulative icon.
What cannot be ignored at the time of producing Control Magazine, Issue Eighteen, is the sudden collapse of the financial markets that supported an inflated bubble. A bubble, which fostered the art object as financial investment.
Control Magazine Issue Eighteen presents texts by artists that offer a vision, a way forward which connects with people, to externalise their work into the real world today.
In this new issue of Control Magazine a group of texts are presented by artists that are considered to have responded to recent cultural events and are offering strategies for the expression of social and community values in art practice.
Contributors:
Vito Acconci, Karolin Meunier, Stephen Willats, Erwin van Doorn, Dan Mitchell, Annette Krauss, Thomas Hirschhorn, Harmen de Hoop, Steve Rushton, Ricardo Basbaum, Phil Coy.