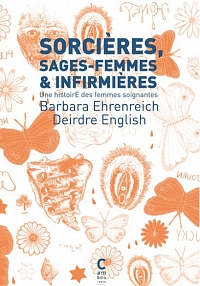 Criticism/Theory
Softcover
121 pages
Texts in French
New
EUR 25
ORDER
Barbara Ehrenreich, Deirdre English, Sorcières, sages-femmes & infirmières. Une histoirE des femmes soignantes, Cambourakis, 2015
Engagées dans le Mouvement pour la santé des femmes dans les années 1970, Barbara Ehrenreich et Deirdre English enquêtent sur les racines historiques de la professionnalisation du corps médical. Portant un regard féministe sur les chasses aux sorcières en Europe et la suppression de la profession de sage-femme aux Etats-Unis, elles s'interrogent: et si, derrière ces événements, se cachait une véritable monopolisation politique et économique de la médecine par les hommes de la classe dominante, reléguant peu à peu les femmes à la fonction subalterne d'infirmière docile et maternelle? Depuis sa parution aux Etats-Unis en 1973, cet essai concis et incisif a ouvert la voie à de nombreux travaux de recherche et prises de conscience. Cette traduction s'ouvre sur une préface inédite des deux auteures.
traduit par L. Lame
postface d'Anna Colin
Criticism/Theory
Softcover
352 pages
20 x 140 cm
Texts in French
New
EUR 34
ORDER
Starhawk, Rêver l'obscur. Femmes, magie et politique, Cambourakis, 2015
Partisane de l'action directe non violente, Starhawk a été de tous les mouvements antimilitaristes et antinucléaires aux États-Unis dans les années 1970-1980. On la retrouve ensuite à Seattle ou à Gênes dans les rangs altermondialistes. Se définissant à la fois comme féministe et sorcière néo-païenne, elle publie Rêver l'obscur. Femmes, magie et politique en 1982 aux États-Unis. Se basant sur la narration très concrète de sa participation à ces mouvements, elle explore une science inventive et festive des rituels, invitant chacun-e à prendre conscience de son pouvoir et à le mettre en oeuvre en resserrant les liens avec les autres, en agissant à sa mesure au sein de la communauté.
Criticism/Theory
First Edition
Paperback
416 pages
20 x 14 cm
Texts in French
New
EUR 35
ORDER
Émilie Hache (ed.), Reclaim. Recueil de textes écoféministes, Cambourakis, 2016
« Ce livre est un livre d'espoir, un livre sur la guérison de nos blessures et sur le fait de croire dans notre propre force, dans le courage de faire des choses ensemble, de changer et transformer la politique de tous les jours de manière non-violente. Ce livre parle de sororité écologique mondiale ! » (Petra Kelly, avant-propos à Healing the Wounds : The Promise of Ecofeminism, 1989)

La COP 21 a suscité un regain d'intérêt en France pour l'écoféminisme dans les milieux militants. Ce mouvement, né dans les années 1980 dans les pays anglo-saxons, a été initié par des femmes faisant le lien entre l'exploitation des ressources naturelles et l'exploitation qu'elles subissaient en tant que femmes. Cette prise de conscience a donné lieu à de nombreuses actions et autant d'écrits écoféministes inconnus en France. Cette anthologie, proposée par la philosophe Émilie Hache, permet de découvrir les textes des principales figures de ce mouvement, parmi lesquelles Susan Griffin, Starhawk, Joanna Macy, Carolyn Merchant, certains textes donnant l'impression qu'ils ont été écrits hier, aujourd'hui même, en réaction à la situation qui est la nôtre.