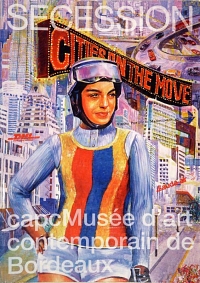 Exhibition catalogue
First Edition
Softcover
Texts in English
Very good condition
EUR 75
ORDER
Hans Ulrich Obrist, Hou Hanru, Cities on the move, CAPC, Secession, 1998
Curated by Hans Ulrich Obrist and Hou Hanru, the exhibition "Cities on the Move" exuded the cacophony of the Asian hyper-architecture that it took as its model. Physically mimicking the controlled chaos of these evolving Asian urban landscapes, the curators brought together contributions by over 70 artists and architects working in and around Asia. They attempted to map the uniquely hybrid manifestations of Asian urban modernization, which they describe in terms of Rem Koolhaas's notion of "Cities of Exacerbated Difference" (COEDs).
Monograph
First Edition
Soft cover, perfect binding
192 pages
30 x 22 cm
Texts in English
New
EUR 39
out of stock
Lutz Bacher, The Gift, Secession, 2016
This artist's book is published on the occasion of the exhibition 'More Than This' at the Secession, Vienna, and features the heterogeneous oeuvre of American artist Lutz Bacher. Over her 40-year career, Bacher has produced conceptual works that defy classification in a variety of formats, including videotapes, photographs, and other mixed media. Described as eclectic, rough, open-ended, and disturbing, many works incorporate elements from pop culture, personal artefacts, and found objects, and address questions of identity as expressed through sexuality and the human body. The book is filled with newspaper clippings, personal communications, and many images.