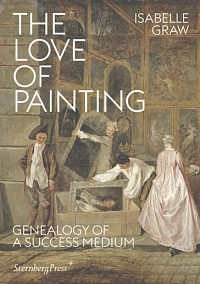 Criticism/Theory
First Edition
Softcover
364 pages
20 x 14 cm
Texts in English
New
EUR 25
ORDER
Isabelle Graw, The Love of Painting. Genealogy of a Success Medium, Sternberg Press, 2018
Painting seems to have lost its dominant position in the field of the arts. However, looking more closely at exhibited photographs, assemblages, installations, or performances, it is evident how the rhetorics of painting still remain omnipresent. Following the tradition of classical theories of painting based on exchanges with artists, Isabelle Graw's The Love of Painting considers the art form not as something fixed, but as a visual and discursive material formation with the potential to fascinate owing to its ability to produce the fantasy of liveliness. Thus, painting is not restricted to the limits of its own frame, but possesses a specific potential that is located in its material and physical signs. Its value is grounded in its capacity to both reveal and mystify its conditions of production. Alongside in-depth analyses of the work of artists like Édouard Manet, Jutta Koether, Martin Kippenberger, Jana Euler, and Marcel Broodthaers, the book includes conversations with artists in which Graw's insights are further discussed and put to the test.
Criticism/Theory
First Edition
Paperback
360 pages
Texts in English
New
EUR 18
ORDER
Coll., What's Love (or Care, Intimacy, Warmth, Affection) Got to Do with It? , Sternberg Press, e-flux journal, 2017
It is often said that we no longer have an addressee for our political demands. But that's not true. We have each other. What we can no longer get from the state, the party, the union, the boss, we ask for from one another. And we provide. Lacan famously defined love as giving something you don't have to someone who doesn't want it. But love is more than a YouTube link or a URL. Love's joy is not to be found in fulfillment, it is to be found in recognition: even though I can never return what was taken away from you, I may be the only person alive who knows what it is.
In our present times—post-human, post-reality, or maybe pre-internet, post-it, pre-collapse, pre-fabricated by algorithms—what does love have to do with it? Since 2009, need and care and desire and admiration have been cross-examined, called as witness, put on parole, and made the subject of caring inquiry by e-flux journal authors. These writings have now been collected to form this comprehensive volume.

Edited by Julieta Aranda, Brian Kuan Wood, Stephen Squibb, Anton Vidokle.
With contributions by Paul Chan, Keti Chukhrov, Cluster, Antke Engel, Hu Fang, Brian Kuan Wood, Lee Mackinnon, Chus Martínez, Tavi Meraud, Fred Moten and Stefano Harney, Elizabeth A. Povinelli and Kim Turcot DiFruscia, Paul B. Preciado, Martha Rosler, Virginia Solomon, Jalal Toufic, Jan Verwoert, Slavoj Žižek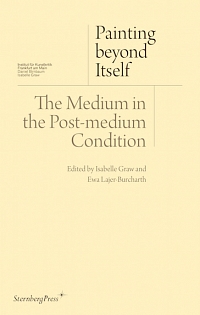 Criticism/Theory
First Edition
Softcover
286 pages
19 x 12 cm
Texts in English
New
EUR 16
ORDER
Isabelle Graw, Ewa Lajer-Burcharth, Painting beyond Itself: The Medium in the Post-medium Condition, Sternberg Press, 2016
In response to recent developments in pictorial practice and critical discourse, Painting beyond Itself: The Medium in the Post-medium Condition seeks new ways to approach and historicize the question of the medium. Reaching back to the earliest theoretical and institutional definitions of painting, this book—based on a conference at Harvard University in 2013—focuses on the changing role of materiality in establishing painting as the privileged practice, discourse, and institution of modernity. Myriad conceptions of the medium and its specificity are explored by an international group of scholars, critics, and artists. Painting beyond Itself is a forum for rich historical, theoretical, and practice-grounded conversation.

Contributions by Carol Armstrong, Benjamin H. D. Buchloh, Sabeth Buchmann, René Démoris, Isabelle Graw, David Joselit, Jutta Koether, Ewa Lajer-Burcharth, Jacqueline Lichtenstein, Julie Mehretu, Matt Saunders, Amy Sillman.