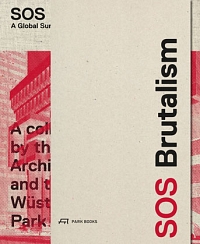 Architecture
First Edition
Softcover
716 pages
27 x 22 cm
Texts in English
New
EUR 64
ORDER
Peter Cachola Schmal, Oliver Elser, Filipp Kurz, SOS BRUTALISM. A Global Survey, Park Books, 2017
The first-ever global survey of brutalist architecture from the 1950s to the 1970s, based on research project carried out collaboratively by Deutsches Architekturmuseum DAM and Wüstenrot Foundation.

"SOS Brutalism" is a distress signal. Since the 1950s, eminent architects around the world have realized buildings expressing an uncompromising attitude. Predominantly, yet not exclusively, they used exposed concrete, or béton brut (hence the term brutalism), for the construction. Today, many of these always controversially discussed buildings are in danger of demolition or, at least, of reconstruction that often may change their appearance beyond recognition. In recent years, an initiative to protect and preserve this significant global heritage of 20th-century architecture has gained momentum, mainly in the internet.

The result of this research to date is a global survey of brutalist architecture of the 1950s, 1960s and 1970s, presented in an exhibition at DAM in autumn 2017 and a coinciding and uniquely comprehensive book. Some 100 contributors document around 120 key buildings from this period, including many previously unpublished discoveries that are in acute danger of loss through neglect of intended demolition. Moreover, the book features overviews of brutalism in architecture in twelve regions around the world. Case studies of hotspots such as the Macedonian capital Skopje or New Haven, Connecticut, and essays on the history and theory of brutalism round out this lavishly illustrated book. The supplement collects papers of an international symposium on brutalism in architecture held in Berlin in 2012.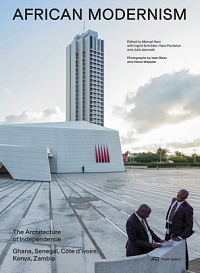 Architecture
First Edition
Hardcover
640 pages
32 x 23 cm
Texts in English
New
EUR 69
out of stock
Manuel Herz, African Modernism, Park Books, 2015
African Modernism. The Architecture of Independence. Ghana, Senegal, Côte d'Ivoire, Kenya, Zambia

In the 1950s and 1960s, most African countries gained independence from their respective colonial power. Architecture became one of the principal means by which the newly formed countries expressed their national identity. Parliament buildings, central banks, stadiums, convention centers, universities and independence memorials were built, often to heroic and daring designs. At the same time, these buildings exemplify also the difficulties, contradictions and dilemmas these countries experienced in their nation-building process.