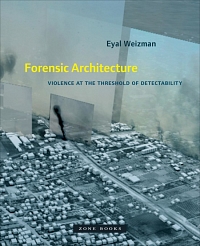 Architecture
First Edition
Hardcover
Texts in English
New
name of the former owner written on the first page,
EUR 38
ORDER
Eyal Weizman, Forensic Architecture. Violence at the Threshold of Detectability, Zone Books, 2017
In recent years, the group Forensic Architecture began using novel research methods to undertake a series of investigations into human rights abuses. Today, the group provides crucial evidence for international courts and works with a wide range of activist groups, NGOs, Amnesty International, and the UN. Forensic Architecture has not only shed new light on human rights violations and state crimes across the globe, but has also created a new form of investigative practice that bears its name. The group uses architecture as an optical device to investigate armed conflicts and environmental destruction, as well as to cross-reference a variety of evidence sources, such as new media, remote sensing, material analysis, witness testimony, and crowd-sourcing.
In Forensic Architecture, Eyal Weizman, the group's founder, provides, for the first time, an in-depth introduction to the history, practice, assumptions, potentials, and double binds of this practice. The book includes an extensive array of images, maps, and detailed documentation that records the intricate work the group has performed. Traversing multiple scales and durations, the case studies in this volume include the analysis of the shrapnel fragments in a room struck by drones in Pakistan, the reconstruction of a contested shooting in the West Bank, the architectural recreation of a secret Syrian detention center from the memory of its survivors, a blow-by-blow account of a day-long battle in Gaza, and an investigation of environmental violence and climate change in the Guatemalan highlands and elsewhere.
Weizman's Forensic Architecture, stunning and shocking in its critical narrative, powerful images, and daring investigations, presents a new form of public truth, technologically, architecturally, and aesthetically produced. The practice calls for a transformative politics in which architecture as a field of knowledge and a mode of interpretation exposes and confronts ever-new forms of state violence and secrecy.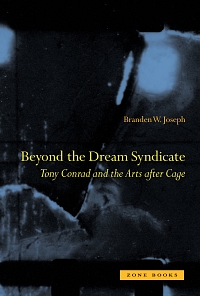 Criticism/Theory
First Edition
Paperback
479 pages
Texts in English
New
EUR 29
ORDER
Branden W. Joseph, Beyond the Dream Syndicate. Tony Conrad and the Arts after Cage, Zone Books, 2008
Tony Conrad has significantly influenced cultural developments from minimalism to underground film, "concept art," postmodern appropriation, and the most sophisticated rock and roll. Creator of the "structural" film, The Flicker, collaborator on Jack Smith's Flaming Creatures and Normal Love, follower of Henry Flynt's radical anti-art, member of the Theatre of Eternal Music and the first incarnation of The Velvet Underground, and early associate of Mike Kelley, Tony Oursler, and Cindy Sherman, Conrad has eluded canonic histories. Yet Beyond the Dream Syndicate does not claim Conrad as a major but under-recognized figure. Neither monograph nor social history, the book takes Conrad's collaborative interactions as a guiding thread by which to investigate the contiguous networks and discursive interconnections in 1960s art.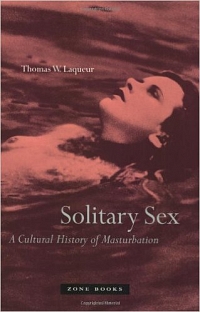 Criticism/Theory
First Edition
Paperback
499 pages
Texts in English
New
EUR 28
ORDER
Thomas W. Laqueur, Solitary Sex. A Cultural History of Masturbation, Zone Books, 2004
"Around 19700, masturbation morphed from a minor sociospiritual transgression into a moral-medical horror. Laquer explains why–better and certainly more exhaustively than previous scholars. As centralized monarchs and the church lost power and the individual assumed new importance in civil society, masturbation was revisioned as the most selfish, antisocial, and dangerous perversion of individualism. Much later, Freud remade masturbation into a temporary, youthful way station for individual socialization. Then after the 1960s, feminism and gay liberation helped engineer a third makeover of masturbation as fundamental for socialized individuals of any age."