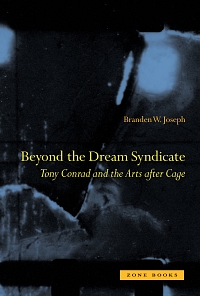 Criticism/Theory
First Edition
Paperback
479 pages
Texts in English
New
EUR 29
out of stock
Branden W. Joseph, Beyond the Dream Syndicate. Tony Conrad and the Arts after Cage, Zone Books, 2008
Tony Conrad has significantly influenced cultural developments from minimalism to underground film, "concept art," postmodern appropriation, and the most sophisticated rock and roll. Creator of the "structural" film, The Flicker, collaborator on Jack Smith's Flaming Creatures and Normal Love, follower of Henry Flynt's radical anti-art, member of the Theatre of Eternal Music and the first incarnation of The Velvet Underground, and early associate of Mike Kelley, Tony Oursler, and Cindy Sherman, Conrad has eluded canonic histories. Yet Beyond the Dream Syndicate does not claim Conrad as a major but under-recognized figure. Neither monograph nor social history, the book takes Conrad's collaborative interactions as a guiding thread by which to investigate the contiguous networks and discursive interconnections in 1960s art.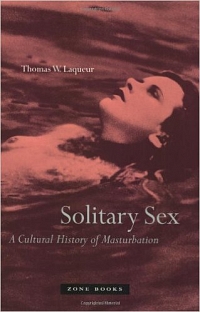 Criticism/Theory
First Edition
Paperback
499 pages
Texts in English
New
EUR 28
out of stock
Thomas W. Laqueur, Solitary Sex. A Cultural History of Masturbation, Zone Books, 2004
"Around 19700, masturbation morphed from a minor sociospiritual transgression into a moral-medical horror. Laquer explains why–better and certainly more exhaustively than previous scholars. As centralized monarchs and the church lost power and the individual assumed new importance in civil society, masturbation was revisioned as the most selfish, antisocial, and dangerous perversion of individualism. Much later, Freud remade masturbation into a temporary, youthful way station for individual socialization. Then after the 1960s, feminism and gay liberation helped engineer a third makeover of masturbation as fundamental for socialized individuals of any age."
Criticism/Theory
Paperback
293 pages
Texts in English
New
EUR 26
ORDER
Gilles Deleuze, Leopold von Sacher-Masoch, Masochism. Coldness and Cruelty & Venus in Furs, Zone Books, 1991
In his stunning essay, Coldness and Cruelty, Gilles Deleuze provides a rigorous and informed philosophical examination of the work of the late 19th-century German novelist Leopold von Sacher-Masoch. Deleuze's essay, certainly the most profound study yet produced on the relations between sadism and masochism, seeks to develop and explain Masoch's "peculiar way of 'desexualizing' love while at the same time sexualizing the entire history of humanity." He shows that masochism is something far more subtle and complex than the enjoyment of pain, that masochism has nothing to do with sadism; their worlds do not communicate, just as the genius of those who created them - Masoch and Sade - lie stylistically, philosophically, and politically poles a part. Venus in Furs, the most famous of all of Masoch's novels was written in 1870 and belongs to an unfinished cycle of works that Masoch entitled The Heritage of Cain. The cycle was to treat a series of themes including love, war, and death. The present work is about love. Although the entire constellation of symbols that has come to characterize the masochistic syndrome can be found here - fetishes, whips, disguises, fur-clad women, contracts, humiliations, punishment, and always the volatile presence of a terrible coldness - these do not eclipse the singular power of Masoch's eroticism.