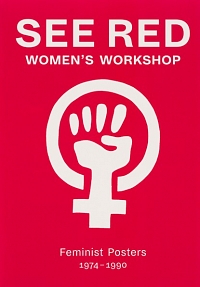 Feminism
184 pages
32 x 22 cm
Texts in English
EUR 34
ORDER
Coll., See Red Women's Workshop: Feminist Posters 1974-1990, Four Corners Books, 2016
Founded in 1974, See Red Women's Workshop grew out of a shared desire to combat sexist images of women and to create positive and challenging alternatives. Women from different backgrounds came together to make posters and calendars that tackled issues of sexuality, identity and oppression. With humour and bold graphics, they expressed the personal experiences of women as well as their role in wider struggles for change.
Written by See Red members, detailing the group's history, the book features all of their original screenprints, alongside posters commissioned for radical groups and campaigns. Confronting negative stereotypes, questioning the role of women in society, and promoting women's self-determination, the power and energy of these images reflect an important and dynamic era of women's liberation — and have continued relevance for today.
Foreword by Sheila Rowbotham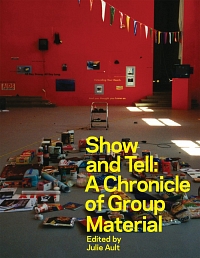 Exhibition catalogue
First Edition
Softcover
272 pages
28 x 22 cm
Texts in English
New
EUR 36
ORDER
Julie Ault, Show & Tell: A Chronique of Group Material, Four Corners Books, 2010
This is the first monograph celebrating Group Material, the New York-based artists collaborative known for its socio-political art practice. Collated by former group members, the book charts the development, projects and contexts of the group's activities, drawing heavily from the group's own archive and including original documents, photographs, drawings, correspondence, artefacts and texts. 45 projects from the group's lifetime (1979–1996) are represented through installation photography, original proposals, exhibition statements, press releases, and responses, while the emblematic exhibition project 'AIDS Timeline' is examined in detail, including in newly conducted interviews.