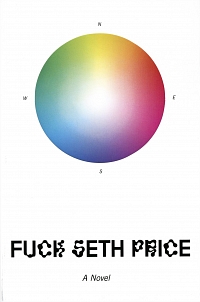 Fiction, Criticism/Theory
First Edition
Soft cover, perfect binding
122 pages
Texts in English
New
EUR 22
out of stock
Seth Price, FUCK SETH PRICE, The Leopard Press, 2015
From one of the most influential artists of his generation comes a provocative, moving novella about what it means to be a creative person under today's digital regime. In the course of a gripping, headlong narrative, Price's unnamed protagonist moves in and out of contemporary non-spaces on a confounding and enigmatic quest, all the while meditating on art in the broadest sense: not simply painting and sculpture but also film, architecture, literature, and poetry. From boutique hotels and highway bridges to PC terminals and off-ramps; from Kanye West and Jeff Koons to George Bush and Patricia Highsmith; from the playground to the internet to the mirror, Price's hybrid of fiction, essay, and memoir gets to the central questions not only of art, but of how we live now.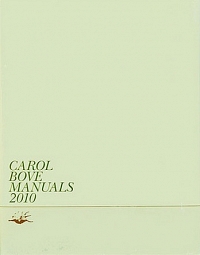 Monograph
First Edition
Hardcover
28 x 22 cm
Texts in English
New
EUR 65
ORDER
Charles Harlan (ed.), Carol Bove: Manuals 2010, The Leopard Press, 2013
Manuals 2010 presents instructions on how to recreate and install Bove's trademark assemblages.