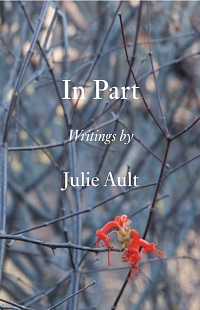 Artists' writings
First Edition
Hardcover with dust jacket
Texts in English
New
EUR 34
ORDER
Julie Ault, In Part. Writings, Galerie Daniel Buchholz, 2017
It's difficult to identify where an association of ideas or interests begins, and it is just as complicated to pinpoint ending. Chronology is not much help. A chronology can start or end anywhere. It can extend in either direction indefinitely, depending on the scope of its frame(s) of reference. Storyline. Lifeline. Timeline. History. All open to reformulation.

Reprinted in chronological sequence alongside a selection of full-length texts, this series of excerpts offers a timeline of Ault's continuous artistic growth, longstanding political concerns and dynamic interpersonal affinities.
Beginning in the 1980s with texts written with her collaborators in Group Material, In Part highlights Ault's shift from exhibition making in the mid-1990s to include publishing and writing. Ault's dialogic practice extends to the present day through her sustained engagements and relationships with such artists as Corita Kent, Felix Gonzalez-Torres, Nancy Spero, Martin Beck, David Wojnarowicz, Liberace and Martin Wong. Lucy R. Lippard contributes an introduction.