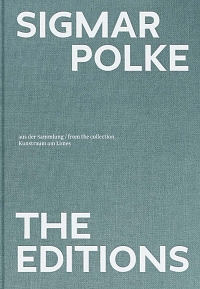 Monograph
First Edition
Softcover
128 pages
Texts in English
New
EUR 35
ORDER
Sigmar Polke, The Editions, Koenig Books, 2017
Editioned work held a special place within the oeuvre and working methods of Sigmar Polke (1941–2010): it represented both a way to conduct intensive variations on unique works, and also to transform identical prints into unique objects by altering the foreground, background, or layering.
His editions—which comprise objects, books, folders, photography, photocopies, collages and prints—and his painting should therefore be understood as symbiotic. Polke's images are products of his world; they reveal the changing society of the postwar years. The banality of everyday life, the aspirations of the middle classes, national and international politics—all of this, Polke placed under a microscope and reconfigured. Featuring approximately 200 works from the collection Kunstraum am Limes, this catalog contains all of the artist's editions.

Foreword by Julia Rust, Claudia Olbricht, Thomas Olbricht. Text by Tereza de Arruda.
Monograph
First Edition
Softcover
215 pages
22 x 15 cm
Texts in English
New
EUR 24
ORDER
Larry Johnson, Commie Pinko Guy, Raven Row, Koenig Books, 2015
Edited by Bruce Hainley, Commie Pinko Guy is the first European monograph devoted to the photo-based work of artist Larry Johnson (born 1959, Long Beach, California).

Alongside numerous colour illustrations of Johnson's artworks spanning his career from the early 1980s to the present, the book also includes images specially selected by the artist from his personal archives and other sources. Among these are photographs by Mel Roberts and from the Athletic Model Guild. This rich visual selection provides a unique perspective on Johnson's personal connections to queer history, the city of Los Angeles – where he has lived all his life – and to American politics.

With essays by Morgan Fisher, Bruce Hainley, Antony Hudek, Wayne Koestenbaum and Lisa Lapinski, as well as reprints of texts by Pleasant Gehman, James McCourt, Boyd McDonald and Duncan Smith.