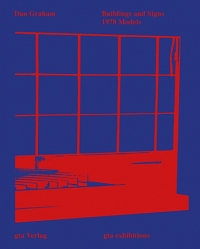 Exhibition catalogue, Monograph
First Edition
Hardcover
88 pages
33 x 26 cm
Texts in English
New
EUR 42
ORDER
Dan Graham, Buildings and Signs 1978 Models, gta Verlag, 2015
Since the 1960s Dan Graham has been one of the most seminal protagonists in conceptual art. With his walk­-through glass Pavilions, he places architecturally de­ signed elements in space, thereby altering the viewer's perceptions of its surround­ ing. The resulting estrangement effect enables the viewer to rediscover and re­ experience spatial dimensions. Among his recent projects is the commission of the Roof Garden on the Metropolitan Museum in New York which was made in cooperation with the landscape architect and ETH professor Günther Vogt. This exhibition at the ETH is the artist's first institutional solo show in Zürich. The publication flesh­ es out Graham's perspective on his model­-like works, in which art and architecture come together.
Exhibition catalogue
First Edition
Hardcover with dust jacket
144 pages
24 x 16 cm
Texts in English
New
EUR 50
out of stock
Fredi Fischli, Niels Olsen, Theater Objects, gta Verlag, 2015
Variously designed stages form the nexus between art and architecture in the exhibition Theater Objects: A Stage for Architecture and Art. They provide theatrical tableaux in which internationally renowned artists and architects present them­ selves in the field of interplay between the two disciplines. Josep Lluís Mateo and Christian Kerez, for example, use the stages to reveal their sources of inspiration, whether books or films, which in turn reflects the format of this exhibition of architecture. The book Theater Objects takes up these ideas and develops them in a large number of contributions.