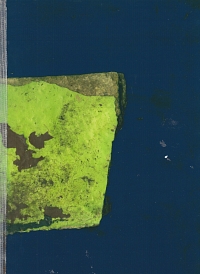 Artist's book, Artists' writings
Texts in French / English
New
EUR 72
ORDER
Tarik Hayward, Indian Inkjet, Oraibi, Mcb-a, 2018
Réalisé à l'occasion de l'exposition Neutral Density de Tarik Hayward au Musée cantonal des Beaux-Arts de Lausanne en 2017, Indian Inkjet est le résultat d'une année de production d'un livre - depuis sa conception jusqu'à son impression - par l'artiste lui-même. Chaque exemplaire est un objet unique réalisé dans une imprimerie autonome mise en place dans l'atelier. Grâce à des logiciels pirate, l'artiste a détourné des imprimantes de leur obsolescence programmée, les alimentant par des bidons d'encre à l'aide de tuyaux.
Né à Ibiza, Tarik Hayward vit à la Vallée de Joux. Il conçoit son travail comme: « une série d'expériences techniques réalisées dans l'urgence d'un besoin non défini ».
--
Produced for the Neutral Density art show at the Musée cantonal des Beaux-Arts in Lausanne in 2017, Indian Inkjet is the result of the one-year process to produce a book - from its conception to its printing - by the artist himself. Every copy is a unique item made in an autonomous printing house set up in the workshop. Thanks to hacked software, the artist hijacked printers from their planned obsolescence, feeding them with tubes dipped in cans of ink.
Born in Ibiza, Tarik Hayward lives in la Vallée de Joux. He conceives his work as « a series of technical experiments made in the urgency of an undefined need ».