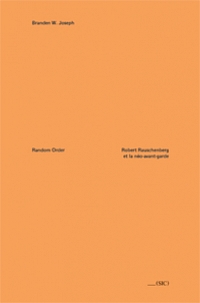 Criticism/Theory
First Edition
Softcover
330 pages
22 x 15 cm
Texts in French
New
EUR 26
ORDER
Branden W. Joseph, Random Order. Robert Rauschenberg et la néo-avant-garde, (SIC), 2012
Par ses célèbres White Paintings, Combines et Combine Paintings, sérigraphies ou performances, Robert Rauschenberg s'est imposé comme l'un des artistes américains majeurs de la seconde moitié du XXe siècle.
Ce livre propose d'examiner son œuvre des années 1950 et 1960 en la situant dans le contexte de la néo-avant-garde américaine, et en insistant notamment sur les relations que l'artiste a pu entretenir avec le compositeur expérimental John Cage. D'après Branden W. Joseph, leur rencontre au Black Mountain College en 1952 est à la base d'un nouveau projet d'avant-garde envisageant la notion de différence non plus en termes de négation mais bien de force positive. L'auteur se démarque ainsi des analyses inspirées par l'Ecole de Francfort – dominant jusqu'alors les débats relatifs à l'esthétique de l'avant-garde et de la néoavant-garde – pour se tourner du côté de Gilles Deleuze, Jacques Derrida, Michel Foucault, Toni Negri et Michael Hardt ou encore Antonin Artaud et Michel Carrouges. Cette approche théorique inédite lui permet de montrer que le projet de Rauschenberg ne consista pas en une simple répétition des procédés à l'œuvre dans la première avant-garde mais en un ensemble de pratiques interrogeant la société d'après-guerre modelée par le spectacle, la marchandisation et le conformisme des masses.

Random Order – qui fit date lors de sa parution originale en 2003 – offre ainsi une analyse pénétrante des œuvres les plus marquantes de Rauschenberg, une redéfinition du paradigme de la néo-avant-garde autant qu'une réflexion sur la subjectivité postmoderne.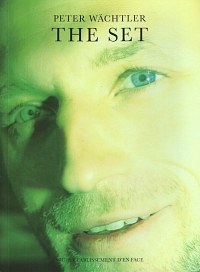 Fiction
First Edition
Softcover
53 pages
23 x 17 cm
Texts in English
New
EUR 14
ORDER
Peter Wächtler, The Set, (SIC), Etablissement d'en face, 2011
The book describes the film set of "Valkyrie", the most recent film on the failed attempt to assassinate Adolf Hitler by leading generals of the German Army in 1944. The main figure in the plot is Claus Schenk Graf von Stauffenberg impersonated by Tom Cruise, which caused a public dispute on his suitability to play the role concerning his Scientology membership, his sunny action image and his somewhat American aura commented by an offended German actor, who was turned down for the main role. Mainly the text depicts four days at the Valkyrie Set in summer 2007 from the perspective of a military extra, meeting colleagues, set hierarchy, stardom and disenchanted freelancing labour.

Born 1979 in Hannover, Peter Wächtler lives and works in Brussels and Berlin.