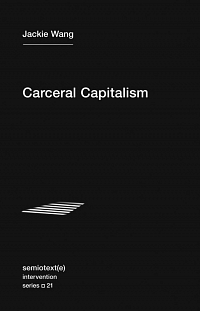 Criticism/Theory
First Edition
Softcover
360 pages
Texts in English
New
EUR 15
out of stock
Jackie Wang, Carceral Capitalism, Semiotext(e), 2018
What we see happening in Ferguson and other cities around the country is not the creation of livable spaces, but the creation of living hells. When people are trapped in a cycle of debt it also can affect their subjectivity and how they temporally inhabit the world by making it difficult for them to imagine and plan for the future. What psychic toll does this have on residents? How does it feel to be routinely dehumanized and exploited by the police?—from Carceral Capitalism
In this collection of essays in Semiotext(e)'s Intervention series, Jackie Wang examines the contemporary incarceration techniques that have emerged since the 1990s. The essays illustrate various aspects of the carceral continuum, including the biopolitics of juvenile delinquency, predatory policing, the political economy of fees and fines, cybernetic governance, and algorithmic policing. Included in this volume is Wang's influential critique of liberal anti-racist politics, "Against Innocence," as well as essays on RoboCop, techno-policing, and the aesthetic problem of making invisible forms of power legible.
Wang shows that the new racial capitalism begins with parasitic governance and predatory lending that extends credit only to dispossess later. Predatory lending has a decidedly spatial character and exists in many forms, including subprime mortgage loans, student loans for sham for-profit colleges, car loans, rent-to-own scams, payday loans, and bail bond loans. Parasitic governance, Wang argues, operates through five primary techniques: financial states of exception, automation, extraction and looting, confinement, and gratuitous violence. While these techniques of governance often involve physical confinement and the state-sanctioned execution of black Americans, new carceral modes have blurred the distinction between the inside and outside of prison. As technologies of control are perfected, carcerality tends to bleed into society.
Criticism/Theory, Poetry
First Edition
Paperback
160 pages
Texts in English
New
EUR 18
out of stock
Kathy Acker, McKenzie Wark, I'm Very Into You, Semiotext(e), 2015
I'm Very Into You, Correspondence 1995–1996 between Kathy Acker and McKenzie Wark

"Why am I telling you all this? Partly 'cause the whole queerness/identity thing for me stretches through everything, absolutely everything. Slipping between straight/gay is child's play compared to slipping between writer/teacher/influence-peddler whatever. I forget who I am. You reminded me of who I prefer to be." [M.W.]
"It's two in the morning. . . I know what you mean about slipping roles: I love it, going high low, power helpless even captive, male female, all over the place, space totally together and brain-sharp, if it wasn't for play I'd be bored stiff and I think boredom is the emotion I find most unbearable. . . " [KA]

After Kathy Acker met McKenzie Wark on a trip to Australia in 1995, they had a brief fling and immediately began a heated two-week email correspondence. Their emails shimmer with insight, gossip, sex, and cultural commentary. They write in a frenzy, several times a day; their emails cross somewhere over the International Date Line, and themselves become a site of analysis. What results is an index of how two brilliant and idiosyncratic writers might go about a courtship across 7,500 miles of airspace—by pulling in Alfred Hitchcock, stuffed animals, Georges Bataille, Elvis Presley, phenomenology, Marxism, The X-files, psychoanalysis, and the I Ching.