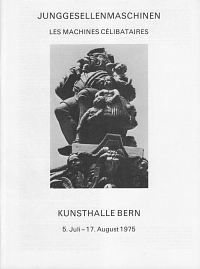 Exhibition catalogue
First Edition
Staple-bound
40 pages
Texts in German
As new
EUR 45
ORDER
Johannes Gachnang (ed.), Harald Szeemann, Junggesellenmaschinen / Les machines célibataires, Kunsthalle Bern, 1975
Small catalogue published on the occasion of Junggesellenmaschinen / Les machines célibataires, an exhibition around Marcel Duchamp curated by Harald Szeemann at Kunsthalle Bern in 1975. It is a parallel publication to the main catalogue published by ALFIERI.
Contains the full list of exhibited works (194 in total), a map of the show and some illustrations. Edited by Harald Szeemann and Johannes Gachnang.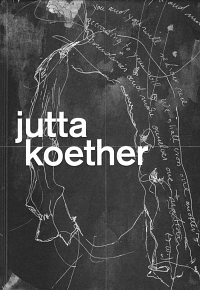 Monograph
First Edition
Hardcover
180 pages
Texts in English / Deutsch
As new
EUR 100
ORDER
Jutta Koether, Kunsthalle Bern, Kölnischer Kunstverein, 2006
This catalogue was published on the occasion of the exhibition Jutta Koether: "Fantasia Colonia", held at Kölnischer Kunstverein, May 27 to August 13, 2006 and at Kunsthalle Bern, January 19 to March 11, 2007.

With texts by Isabelle Graw, Martin Prinzhorn, Diedrich Diederichsen and Micahel Kerkmann; and a conversation between Koether, Sam Lewitt and Eileen Quinlan.