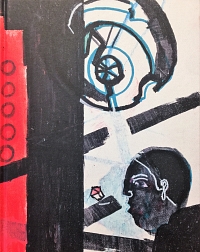 Monograph
First Edition
Hardcover
78 pages
31 x 24 cm
Texts in English
New
EUR 28
ORDER
René Daniëls, René Daniëls - Works from 2006 to 2017, Roma Publications, 2018
In his works on canvas created over the past twelve years, René Daniëls often returns to his paintings from the period before 1987. He adopts ciphers deriving from these works but uses them to develop a different, unprecedented language. Changing pictorial constellations express an existential situation of non-communication and isolation but are also pushed beyond these limits into a realm of extraordinary painterly possibilities. The present publication accompanies an exhibition of René Daniëls's work from 2006 to 2017 at Reset in Borgloon, Belgium, curated by Ulrich Loock, who's also the editor of this book. It marks the first time that the paintings Daniëls has produced since his devastating stroke in 1987 have been presented as a substantial and autonomous body of work.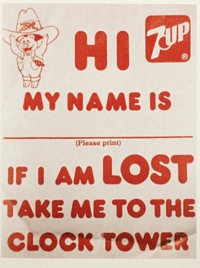 Monograph
Softcover
96 pages
Texts in English
New
EUR 18
out of stock
Hanneke Skerath (ed.), Mike Kelley: Fortress of Solitude, Roma Publications, 2018
Looking at the play between memory and forgetfulness, Mike Kelley: Fortress of Solitude brings together a range of key works from across the artist's career. Whether using found stuffed animals as emotional effigies of long lost traumatic memories, or evoking the psychic existential homelessness of Superman in the form of his Kandor series, Mike Kelley explores the dark underbelly of post-war American culture. This publication accompanies the exhibition that took place at the Museum of Cycladic Art in Athens, curated by Douglas Fogle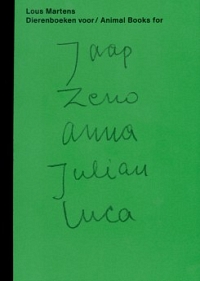 Artist's book, Children's book
First Edition
Softcover
416 pages
24 x 17 cm
New
EUR 36
out of stock
Lous Martens, Animal Books for Jaap Zeno Anna Julian Luca, Roma Publications, 2017
Lous Martens about the book: "Seventeen years ago our grandson Jaap was born. That was the start of an animal book for Jaap. I used a dummy for the OASE journal of architecture and loosely pasted in pictures of animals that I had clipped from newspapers and magazines about art, literature and science. Plus stamps and photos from advertising brochures. Then Zeno was born and the same thing happened: an animal book for Zeno. Now I was working on two books at once. Then came Anna. Julian. Luca. At this point, there were five books-in-the-making on the table. And none of those five are finished yet. The children, as well as myself, enjoy seeing the small, ever-evolving changes. The additions. These books were never intended for the outside world where I had found all the pictures. Never intended to be published. Now they lie here, grouped into one big book, because others have convinced me it's what they deserve."