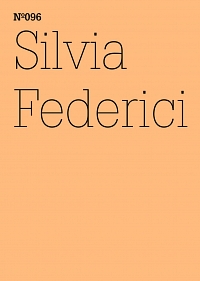 Criticism/Theory
First Edition
Staple-bound
32 pages
Texts in English / Deutsch
New
EUR 9
ORDER
Silvia Federici, Witch-Hunting, Past and Present, and the Fear of Power of Women, Hatje Cantz, 2012
Small booklet published on the occasion of documenta(13) in Kassel, in the collection 100 Notes – 100 Thoughts / 100 Notizen – 100 Gedanken, edited by Bettina Funcke.
Exhibition catalogue
First Edition
Softcover
272 pages
30 x 24 cm
Texts in English
New
EUR 74
ORDER
Alexander Calder & Fischli / Weiss, Hatje Cantz, 2016
The American artist Alexander Calder (1898–1976) and Swiss artists Peter Fischli (*1952) and David Weiss (1946–2012) have sought and found quintessential ways of rendering a moment of fragile balance in art—a temporary state at once precarious and propitious. With Calder's groundbreaking invention of the mobile in the early nineteen thirties, and Fischli/Weiss's collaborative creative work from 1979 onwards, these artists each lent the theme of fragile balance an iconic form of a very different kind. At first glance, both positions could hardly be more different; later, however, they proved to be two sides of the same coin, the result of different perspectives on the same theme at different times. The elaborately designed, richly illustrated catalogue with accompanying essays provides extensive insight into both oeuvres.
Criticism/Theory
Hardcover
215 pages
24 x 16 cm
Texts in English
New
EUR 35
ORDER
Richard Prince, Collected Writings, Hatje Cantz, 2011
Richard Prince: Collected Writings is the first collection of selected short works by American artist Richard Prince (*1949). Prince is mainly known for his photographs of iconic pictures from advertising and pop culture, such as the erotic Nurses paintings, the Marlboro cowboys, or his Jokes, text images of chauvinist jokes through which he holds a mirror up to the viewer.
Written between 1974 and 2009, these thirty-five pieces of prose explore everything from Franz Kline to Woodstock, and include revealing musings on the revolutionary approach to photography central to Prince's technique. A literary text by Jonathan Lethem, author of the currently much-talked-about novel Chronic City, rounds off this volume edited by Kristine McKenna.