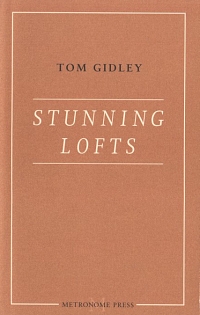 Fiction
First Edition
Paperback
350 pages
Texts in English
New
EUR 40
ORDER
Tom Gidley, Stunning Lofts, Metronome Press, 2005
"There are many beautiful places in the world, and a few of them belong to me. A street in a village near Bari, every surface whitewashed to dazzling affect on a Mediterranean summer's day. The lighthouse at the tip of a tiny Welsh peninsula, approached in a small boat at dawn under cover of rolling black clouds. That inlet from the sea somewhere on the south west coast of Sweden that suddenly becomes a twisting stream set in dense woodland, lined by a scattering of modernist houses. These are some of mine. I think about them and the others quite often, to keep them with me and not allow them to fade away."

Two nameless protagonists talk about their lives in a series of alternating short chapters. Unaware of each other, and speaking from two different periods of time in London (one an office worker in the mid nineties, the other a homeless man shortly after the turn ofthe new millenium) their very different experiences begin to overlap and mirror each others' in various ways. Both reach a point of crisis and their lives draw inexorably closer together, leading to a tragic and unexpected conclusion.

Metronome Press is a not-for-profit collective run by Clémentine Deliss and Thomas Boutoux in Paris. It was founded in 2005 and it has to be considered as an extension of the research of Metronome No.9, based on the international history of avant-garde publishing in Paris and its productive intersection between art and literature.