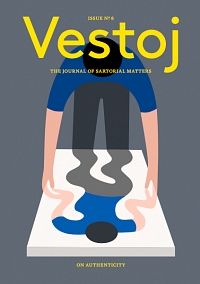 Criticism/Theory
First Edition
Softcover
240 pages
Texts in English
New
EUR 27
ORDER
Coll., Vestoj #08 : On Authenticity, Vestoj Journal, 2017
"These are times of post-truth, alternative facts and truthiness: at times it seems we are becoming fluent in Newspeak. But even as we have come to adapt to a more flexible view of reality, integrity, sincerity, truthfulness and authenticity remain consecrated ideals of selfhood. 'Keep it real.' 'Stay true to yourself.' 'Be yourself.' These truisms and tautologies have grazed many a coffee cup, self-help book and T-shirt, and they are a standard trope in TED Talks. Though we may cringe when we hear them, many of us have come to accept those corny phrases as conventional wisdom. (...)
Curiously, as philosophers debate the collapse of authenticity in a postmodern world, in consumer capitalism it has taken on a supreme importance: in fashion it's the holy grail. Terms like 'artisanal,' 'heritage,' 'craftsmanship' and 'storytelling' have become buzzwords, and conglomerates are fond of referring to their offices as 'campus' and co-workers as 'family.' The further away we feel from those values, the more important they become it seems. We speak of 'real clothes' as opposed to 'fashion,' and 'real people' as opposed to models." Excerpt of the Editor's letter.

TEXTS BY Laura Albert, Elizabeth Hawes, Lucy Ives, Alice Hines, Anja Aronowsky Cronberg, Eric Wilson, Jacque Mercer, Philippa Snow, Charles Baudelaire, Rob Horning, Rosie Findlay, Johannes Reponen, Andrea Kollnitz, Andrew Potter, Efrat Tseëlon.
INTERVIEWS BY Anja Aronowsky Cronberg.
FICTION BY Guy de Maupassant, William Thackeray.
VISUALS BY Torbjørn Rødland, Ed Templeton, Timm Rautert, Hans Eijkelboom, Mimmo Paladino, Aneta Grzeszykowska, Simon Menner, Roshan Adhihetty, Eddy Bofferio, Weronika Gęsicka.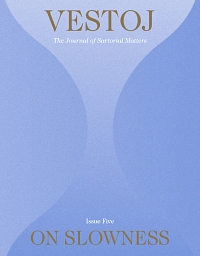 Periodical
Softcover
Texts in English
New
EUR 25
ORDER
Vestoj #05: On Slowness, Vestoj Journal, 2015
(...) The speed of change is a growing complaint about fashion, both amongst those whose livelihoods depend on it, and amongst those who observe these ceaseless shifts from afar. Grumbles about a ubiqui­tous acceleration are nothing new however; in fact, the grievance we appear to harbour against velocity is as old as modernity itself. Back then the machines that increasingly replaced the human hand aroused fear and trepidation; today our attitudes reflect much the same ambivalence towards the revolutions of time. It seems we always regard our own time as simultaneously the most progressive and the most relentlessly accelerated. The modernist project, however, firmly rooted the relationship between progress and speed, and in so doing also forever altered our notion of time. A universal temporal framework, with time zones, seasonal changes and accurate clocks, was constructed with the help of new technology, and the previous more subjective understanding of time had to make way for expedience and the hustle of modern life. With a more synchronised understanding of time, the future also became easier to grasp and, by extension, to control. For a future that can be measured in terms of the knowable present, is a malle­able future, a future that can be shaped according to our will. (...)

With texts by: Dr Michelle Bastian, Laura Gardner, Dr Susan S. Bean, Dr Donald B. Kraybill, Nathalie Khan, Karinna Nobbs, Professor Barbara Vinken, Karlijn Slegers, Yoshiko Iwamoto Wada, Nilgin Yusuf, Professor Frances Corner, Dr John Barker, Anja Aronowsky Cronberg and Maria Fusco.

Last copies !!