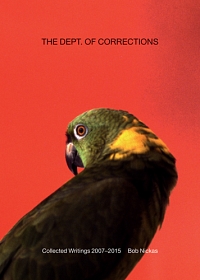 Criticism/Theory
First Edition
Soft cover, perfect binding
405 pages
Texts in English
New
EUR 28
ORDER
Bob Nickas, The Dept. of Corrections. Collected Writings 2007–2015, Karma, 2015
This volume is comprised of years of recent writing by the influential New York–based critic and curator Bob Nickas, widely considered one of the few independent voices still at work today. The 50 essays and interviews, written since 2007, are spread across five chapters, touching on encounters with artists from the 1960s to the '80s to the present—among them, Jack Smith, Andy Warhol, Frank Stella, On Kawara, Isa Genzken, Steven Parrino, Jean-Michel Basquiat, Kara Walker, Wolfgang Tillmans, Kelley Walker and Pierre Huyghe. Writing as if these figures were passing us by in present time, Nickas traces the disappearance of artists, architecture and culture in New York over three decades. As a way to keep the past in every sense present, his writing is always issued from his fictional "Dept. of Corrections."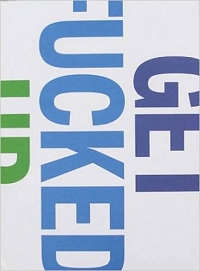 Artist's book
First Edition
Hardcover with dust jacket
174 pages
31 x 23 cm
Texts in English
New
EUR 55
ORDER
Bjarne Melgaard, BATON SINISTER, Karma, 2011
As part of 'Beyond Death', a graduate program led by Bjarne Melgaard at the Università IUAV, Venice, this publication compiles the multitude of visual and textual materials used in the course, as well as installation images from the exhibition Melgaard organized in collaboration with his students at the Palazzo Contarini Corfu. The course examined how AIDS has become a key lens through which to investigate some of the key transformations affecting the world today, especially in relation to identity formation, the use of violence and the possibility of collective action, while drawing on the work of theorists such as Guy Hocquenghen and Michel Foucault, artists such as David Wojnarowicz and William Copley. Also included in the book are variously manipulated stills and text excerpts from filmed interviews Melgaard conducted with leading queer theorist and co-lecturer Leo Bersani.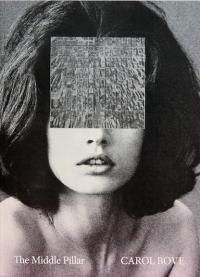 Monograph
First Edition
Softcover
28 pages
Texts in English
New
EUR 26
ORDER
Carol Bove, The Middle Pillar, Karma, 2013
The Middle Pillar: A Retrospective Introduction
In 2004 Carol Bove described her interest in what she called the provocative 'shady places' of display: 'a gradient that starts with a small, personal domestic object and goes through art objects, installation art, site-specific works, environments, installation design, architecture, etc.'. Her use of historical objects and texts belongs to this larger project dedicated to undermining binaries, often the either/or distinctions between site-specific installations and autonomous artworks.
Text by Cathleen Chafee.