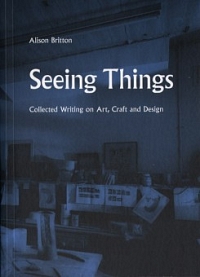 Criticism/Theory
First Edition
Softcover
265 pages
Texts in English
New
EUR 29
ORDER
Alison Britton, Seeing Things. Collected Writing on Art, Craft and Design, Occasional papers, 2013
Rethinking dismissive definitions of "applied" art, Alison Britton's collected writings reveal ceramics as an exploratory field that reflects on itself, in dialogue with many other areas of inquiry such as gender and cultural studies. Britton, one of todays leading ceramists and a writer on craft, has chosen a range of her own texts from essays to book reviews and interviews, which demonstrate a continuing desire to test the boundaries of her practice. Seeing Things is essential reading not only for fellow ceramists but also anyone interested in the role of materiality and making in the wider cultural field.
Monograph
First Edition
Softcover
112 pages
20 x 13 cm
Texts in English
New
EUR 17
out of stock
Peter Dreher, Just Painting, Occasional papers, 2014
This book brings together, for the first time in English, a selection of texts written about the work of German artist Peter Dreher. It focuses primarily on his remarkable series of over 5,000 paintings of the same empty drinking glass, produced since 1974. These texts identify a broad variety of approaches to Dreher's work, including realist, formalist, conceptual, psychoanalytical, philosophical and spiritual interpretations of a practice that, as writer Lynne Tillman has suggested, addresses the entire 'history of the problems in painting.'
With essays by Michael Archer, Peter Dreher, Stefan Kraus, Hans Ulrich Obrist, Anthony Spira, Dirk Teuber, Lynne Tillman, Franz Joseph van der Grinten, Beat Wismer and John Yau.
Exhibition catalogue
Soft cover, perfect binding
160 pages
25 x 19 cm
Texts in English
New
EUR 26
ORDER
David Senior, Please Come to the Show, Occasional papers, 2014
David Senior, bibliographer at the Museum of Modern Art Library in New York, selected a wide range of exhibition-related ephemera – invitations, flyers and posters from the 1960s to the present – and presents them here as an historically overlooked but integral aspect of exhibitions. Often the first point of contact between the audience and artist, such items form part of an essential lexicon for graphic designers, curators, art historians and anyone interested in the event-based nature of showing art. Filled with full-colour reproductions of numerous examples from the MoMA collection, the book includes new essays by Gustavo Grandal Montero, Will Holder, Antony Hudek, Angie Keefer, Clive Phillpot, David Senior and Suzanne Stanton.