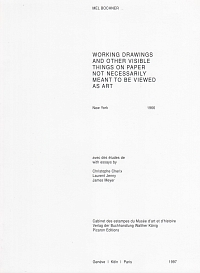 First Edition
Softcover in boxset
Texts in French / English
New
EUR 160
ORDER
Mel Bochner, Working Drawings and Other Visible Things on Paper Not Necessarily Meant to be Viewed as Art, Cabinet des Estampes, Verlag der Buchhandlung Walther König, 1997
Originally conceived as an exhibition, shown at the Visual Arts Gallery, School of Visual Arts, New York, December 2 - December, 1966, Bochner compiled notebook pages and working drawings by Carl Andre, Jo Baer, John Cage, Tom Clancy, Dan Flavin, Milton Glaser, Dan Graham, Eva Hesse, Alfred Jensen, Donald Judd, Michael Kirby, William Kolakoski, Robert Lepper, Sol LeWitt, Robert Mangold, Robert Moskovitz, Robert Smithson, Kenneth Snelson, and others into a xeroxed volume which was then presented in four identical copes, each on their own pedestal.

This edition of the Working Drawings and Other Visible Things on Paper Not Necessarily Meant to be Viewed as Art by Mel Bochner is published on the occasion of the exhibition Mel Bochner | Projets à l'étude | 1966-1996 at the Cabinet des estampes du Musée d'art et d'histoire, Geneva (February 27 to April 3, 1997). The edition was printed from the photocopies dating from the 1996 installation contained in the first binder of the Working Drawings.

This publication, inspired by the original presentation, consists of four identical volumes, plus a new volume of critical texts on the work within a slipcase. Fifth volume texts by Christophe Cherix, Laurent Jenny, James Meyer in French and English.