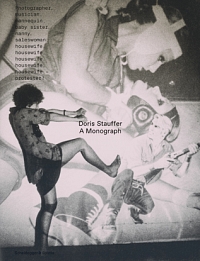 Monograph
First Edition
Softcover
212 pages
30 x 23 cm
Texts in English
New
EUR 48
out of stock
Mara Züst, Simone Koller, Doris Stauffer: A Monograph, Scheidegger & Spiess, 2015
In addition to her contributions to art criticism, Doris Stauffer has produced an impressive body of artistic work that consists of photography, sculpture, and collage. The subject of exhibitions in her native Switzerland, Stauffer is among the founders of the F + F School of Experimental Design, and her explorations of form and color have long been recognized for engaging with feminism and the existing conventions and hierarchies within society.

With more than three hundred illustrations, Doris Stauffer documents for the first time the life and work of this important twentieth-century artist with a focus on her political engagement. Essays place Stauffer's work in historical and political context, including her involvement with the Swiss women's liberation movement and an interview in which the artist imagines alternative forms of feminism and art education. Additional essays look at the influence of Stauffer on other female artists, as well as some of the recurring themes in her art, including fairy tales and other forms of narration.
Anthology, Exhibition catalogue
First Edition
Hardcover
304 pages
25 x 20 cm
Texts in English
New
EUR 62
ORDER
Kunsthaus Zürich, Dadaglobe Reconstructed, Scheidegger & Spiess, 2016
Dadaglobe was to be the definitive anthology of the Dada movement. Had it been published in 1921 as planned, it would have constituted more than one hundred artworks by some thirty artists from seven countries, showing Dada to be an artistic and literary movement with truly global reach. Yet, mainly due to a lack of funding, it remained unpublished, leaving a remarkable void in the literature on this early twentieth-century movement.

On the one-hundredth anniversary of the founding of Dada in Zurich, Dadaglobe Reconstructed restores this fascinating literary artifact with reproductions of the works of art received for the original book by the Romanian poet and cofounder of the Dada movement Tristan Tzara. Tzara's call for submissions in four categories—drawings, photographs of artworks, photographic self-portraits, and book layouts—was met not merely with existing works. In fact, the parameters for production also served as a catalyst for the creation of many new ones, including some of the Dada movement's most iconic works. For the first time, the collection is presented here in full color and alongside essays examining Tzara's concept and the history of Dada and Dadaglobe.

With contributions by Adrian Sudhalter, Michel Sanouillet, Cathérine Hug, Samantha Friedman, Lee Ann Daffner, and Karl D. Buchberg.