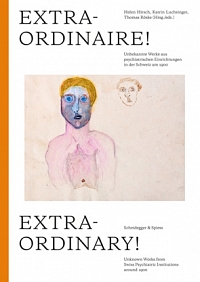 Exhibition catalogue
320 pages
24 x 17 cm
Texts in English / Deutsch
New
EUR 34
ORDER
Helen Hirsch, Katrin Luchsinger, An Lehninger, Extraordinaire! Unknown Works from Swiss Psychiatric Institutions around 1900, Scheidegger & Spiess, 2018
There has been a rapid rise in interest in recent years in art created by people suffering from mental illness, with new museums dedicated to it, major surveys, and attention from the media and public. Yet there has been little research undertaken to systematically examine this body of art.
Extraordinary! presents the results of an exceptional research project undertaken at the Zurich University of the Arts that documented and examined art produced in asylums and mental hospitals throughout Switzerland around 1900. Varied in style and media, the works often mark long periods of dedicated and passionate work and reveal remarkable technical and artistic prowess. They serve, the editors show, as both an expression of their creators' ideas and an act of compensation for, and their own ciriticism of, the dull and often hard life at the institutions they treaded.
Featuring a diverse selection of previously unpublished works, Extraordinary! questions our contemporary understanding of art, encouraging the reader to engage with these artists and their work and thereby revisit the very idea of what constitutes art.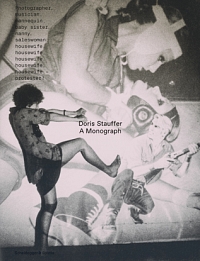 Monograph
First Edition
Softcover
212 pages
30 x 23 cm
Texts in English
New
EUR 48
out of stock
Mara Züst, Simone Koller, Doris Stauffer: A Monograph, Scheidegger & Spiess, 2015
In addition to her contributions to art criticism, Doris Stauffer has produced an impressive body of artistic work that consists of photography, sculpture, and collage. The subject of exhibitions in her native Switzerland, Stauffer is among the founders of the F + F School of Experimental Design, and her explorations of form and color have long been recognized for engaging with feminism and the existing conventions and hierarchies within society.

With more than three hundred illustrations, Doris Stauffer documents for the first time the life and work of this important twentieth-century artist with a focus on her political engagement. Essays place Stauffer's work in historical and political context, including her involvement with the Swiss women's liberation movement and an interview in which the artist imagines alternative forms of feminism and art education. Additional essays look at the influence of Stauffer on other female artists, as well as some of the recurring themes in her art, including fairy tales and other forms of narration.