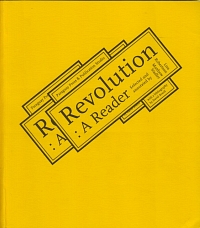 Anthology
Second Edition
Softcover
1160 pages
Texts in English
New
EUR 30
ORDER
Lisa Robertson, Matthew Stadler, Revolution: A Reader, Paraguay Press, Publication Studio, 2015
Co-published with Publication Studio, Portland, Revolution: A Reader collects texts from across many cultures and times and organizes them roughly along a chronology of living, from "beginning," to "childhood," "education," "adulthood," and "death." The book brings the embodied fact of revolution into the lived present by engaging readers with language that takes us there, no matter where we are to begin with. We are all in revolution, now. Reading can make this fact primary and conscious and shared. Heavily annotated throughout, the book is, quite literally, a conversation. The annotations, by Lisa Robertson and Matthew Stadler — composed simultaneously and in response to one another — stitch a web of argument that links the book into a single thing, a reader. The book also features a narrative bibliography of revolution by David Brazil.
With texts by Kathy Acker, Etel Adnan, Vivienne Westwood, Dodie Bellamy, David Brazil, Edmund Burke, Mina Loy, Mahmoud Darwish, Oscar Wilde, Guy Davenport, Angela Davis, Gertrude Stein, Stacy Doris, Hannah Arendt, Saskia Sassen, Frantz Fanon, Shulamith Firestone, Louise Michel, Eileen Myles, Jean Genet, Michel Ragon, Donna Haraway, Oscar Tuazon and many more.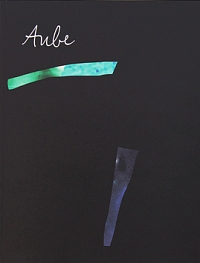 Artist's book
Soft cover, perfect binding
88 pages
28 x 21 cm
Texts in French / English
New
EUR 22
ORDER
Clément Rodzielski, Aube, Paraguay Press, 2015
Aube, by French artist Clément Rodzielski, is an unconventional publication: the book was conceived as a work of its own, from a luxurious range of editorial operations – from cutting to digital process, collage and scan to drawing – on images of the artist's past works. Aube thus reconsiders the legacy of the artists' book and the livre de peintre, and foregrounds the importance of publishing and writing as models for the practice of art. Rodzielski's work examines and makes use of contemporary modes of production, reproduction and circulation of images. For the book Aube, he turns this process to his own work, that we see developing by fragments and previews, as if behind an openwork filter – or is it the surface of the page that is appearing through the pictures?
A poem written by the artist – an "Alba" — gives the book its rhythm: it refers to an ancient genre of poetry that describes the sun rising and lovers leaving each other. But here this movement of becoming visible and setting apart is affecting the images and their materiality, as well as the way we look at them. A 12-page insert provides an index of the works, and an essay by art critic and curator Benjamin Thorel, about the role of poetry and inscription in the work of the artist.