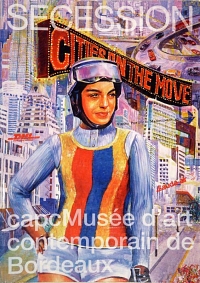 Exhibition catalogue
First Edition
Softcover
Texts in English
Very good condition
EUR 75
ORDER
Hans Ulrich Obrist, Hou Hanru, Cities on the move, CAPC, Secession, 1998
Curated by Hans Ulrich Obrist and Hou Hanru, the exhibition "Cities on the Move" exuded the cacophony of the Asian hyper-architecture that it took as its model. Physically mimicking the controlled chaos of these evolving Asian urban landscapes, the curators brought together contributions by over 70 artists and architects working in and around Asia. They attempted to map the uniquely hybrid manifestations of Asian urban modernization, which they describe in terms of Rem Koolhaas's notion of "Cities of Exacerbated Difference" (COEDs).
Artists' writings, Monograph
First Edition
Softcover
1500 pages
Texts in French
Very good condition
EUR 180
ORDER
Daniel Buren, Les Écrits (1965-1990), CAPC, 1991
"En 1985 le capc Musée d'art contemporain de Bordeaux prit la décision de publier les écrits complets de Daniel Buren. Le travail s'est engagé avec l'ambition quelque peu déraisonnable de viser à l'exhaustivité. Le musée et Daniel Buren en ont accepté l'enjeu car il ne s'agissait pas d'assouvir quelque besoin de compilation maniaque, mais de donner à comprendre comment s'étaient écrits et dits au jour le jour, à côté ou autour du travail proprement esthétique, un discours et des textes dont la fonction s'est avérée indispensable." (extrait de la préface du livre par Jean-Marc Poinsot).

Textes réunis et présentés par Jean-Marc Poinsot. Publication préparée par Marc Sanchez. En trois volumes. Tome I : 1965-1976 ; Tome II : 1977-1983 ; Tome III : 1984-1990.