Artist's book, Criticism/Theory
First Edition
Soft cover, perfect binding
140 pages
29 x 21 cm
Texts in English
New
EUR 30
out of stock
Ramaya Tegegne, Bzzz Bzzz Bzzz, Marbriers 4, 2014
Bzzz Bzzz Bzzz is a visual essay looking at groups groups, networks and the phenomenon of gossip in an artistic context from a sociological point of view. Gossip is here understood as a relational model allowing to understand how groups emerge and define themselves through a mutual speculative knowledge and through some kind of difference to an outside. Gossip is considered as a productive virtue capable of creating intimacy, trust and a stimulating network allowing the emergence of common values, convictions and knowledge among the group.
Within the art world, as an informal mode of communication, it also plays a decisive role in the formation of a critical opinion on an artist's reputation: his personality, his work and consequently his career.
Compiled by Ramaya Tegegne on the occasion of her show Respektive at Marbriers 4, May 29 – June 14, 2014.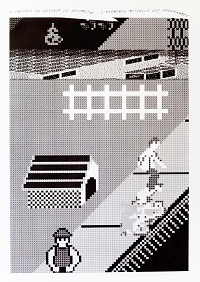 Poster
Edition of 10
84 x 59 cm
New
EUR 100
ORDER
Alan Schmalz, Marbriers 4, 2013
Silkscreen on paper.
Signed and numbered!