Fiction
First Edition
Paperback
112 pages
17 x 11 cm
Texts in English
New
EUR 11
ORDER
Tina Braegger, The Grateful Dead – A Diary by Gabriel Krampus, BECKBOOKS, 2016
Gabriel Krampus lives with his wife on a deserted island of the Idian ocean. They are both artists. At 84 years old, he decides to publish his diary, written 8 years earlier, in 2059.

"To have an island all by myself was my dream since forever, to be able to work without worldly distractions. My wife had always made conceptual work. She wanted to be buried in a beautiful place, and our private little island can definitely be described as such, so now for almost 44 years she has been watching the weather change, the time pass, the ocean come and go."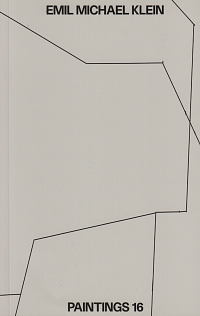 Artist's book
First Edition
Softcover
48 pages
19 x 12 cm
Texts in English
New
EUR 15
ORDER
Emil Michael Klein, PAINTINGS 16, BECKBOOKS, 2016
This book gathers a series of paintings by the Swiss artist Emil Michael Klein, produced between 2014 and 2016. The paintings are realised on a dark primer, which the artist covers with a white tone, leaving out lines. This series underlines the artist's move from his former studio in Renens to the new one in Zurich where he is based since 2015. Klein generally works on a group of several paintings at the same time, and takes them through different states and formes. Former works often set a starting point for new compositions, in which the form and style are adapted or changed, in a repetitive gesture. PAINTINGS 16 gathers a sequence of 24 paintings and allows the reader to easely navigate from one to another.

Emil Michael Klein was born in 1982 in Munich, lives and work in Switzerland.
/
Cette publication présente une série de peintures de l'artiste suisse Emil Michael Klein, produites entre 2014 et 2016. Celles-ci sont réalisées sur un fond sombre, que l'artiste couvre d'un ton blanc, en laissant des lignes apparentes. Cette série marque le déplacement de l'artiste de son ancien studio de Renens à celui de Zürich dans lequel il est installé depuis 2015. Klein travaille généralement sur un groupe de plusieurs peintures à la fois, et leur fait traverser ensemble différents états, lieux, formes. Ce sont souvent les travaux précédents qui forment un point de départ à de nouvelles compositions, dont le format et le style sont ré-adaptés, en un geste répétitif.
PAINTINGS 16 rassemble une séquence de 24 toiles et offre au lecteur la possibilité d'un mouvement fluide d'une peinture à une autre.
Emil Michael Klein est né en 1982 à Munich, il vit et travaille en Suisse.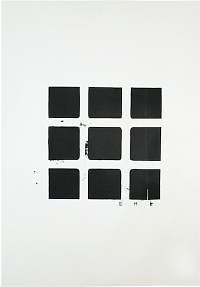 Poster
Edition of 20
102 x 72 cm
EUR 280
ORDER
Emil Michael Klein, untitled, BECKBOOKS, 2014
Silkscreen print on paper.