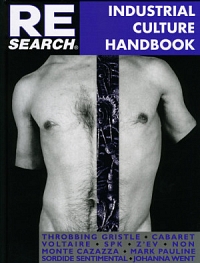 Periodical, Source Book
Edition of 2006
Hardcover
32 x 21 cm
Texts in English
New
EUR 45
ORDER
V. Vale, Andrea Juno, RE/Search #6/7:Industrial Culture Handbook, RE/Search, 1983
RE/Search No. 6/7: Industrial Culture Handbook from RE/Search Publications, 1983 is a book about industrial music and performance art edited by V. Vale and Andrea Juno. It features interviews and articles with Throbbing Gristle, Mark Pauline, Cabaret Voltaire, NON, Monte Cazazza, Sordide Sentimental, SPK, Z'EV, Johanna Went and R&N.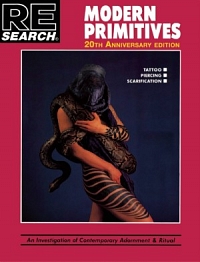 Periodical, Source Book
First Edition
Soft cover, perfect binding
29 x 21 cm
Texts in English
New
EUR 25
ORDER
V. Vale, Andrea Juno, Modern Primitives, RE/Search, 1989
The book consists of a collection of twenty two interviews and two essays with individuals and key figures involved the field of body modification in the late 1980s. It was one of the first documents to attempt to comprehensively cover the re-emergence and increasing popularity of tattooing, piercing, scarification, corsetry, sideshow, ritual and other practices in contemporary Western Society.
Source Book
Second Edition
Soft cover, perfect binding
124 pages
Texts in English
Good condition
EUR 40
ORDER
Daniel P. Mannix, Freaks: We Who Are Not As Others, RE/Search, 1989
Meet the strangest people who ever lived! Read all about: the notorious love affairs of midgets, the strange sex lives of Siamese twins, the mule-faced woman whose son became her manager, the unusual amours of Jolly Daisy, the fat woman, the human torso who could sew, crochet, and type, and bizarre accounts of normal humans turned into freaks–either voluntarily or by design! Daniel P. Mannix, now enjoying a cult revival, is the author of noir classics such as Those About To Die, The History of Torture, The Hell-fire Club, Memoirs of a Sword Swallower, The Beast (the first biography of Aleister Crowley to enjoy wide readership), and many other books. Up until his death in January 1997 at the age of 85, Mannix–a former sword-swallower, fire-eater, fakir and world traveler–lived on the family farm with his falcon, miniature horses and reptile collection. V. Vale was fortunate enough to visit him here in 1987.