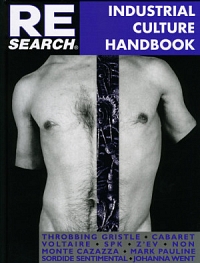 Cultural Studies, Periodical
Edition of 2006
Hardcover
32 x 21 cm
Texts in English
New
EUR 45
ORDER
V. Vale, Andrea Juno, RE/Search #6/7:Industrial Culture Handbook, RE/Search, 1983
RE/Search No. 6/7: Industrial Culture Handbook from RE/Search Publications, 1983 is a book about industrial music and performance art edited by V. Vale and Andrea Juno. It features interviews and articles with Throbbing Gristle, Mark Pauline, Cabaret Voltaire, NON, Monte Cazazza, Sordide Sentimental, SPK, Z'EV, Johanna Went and R&N.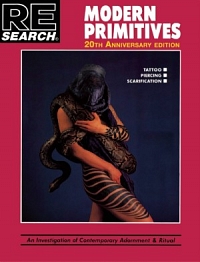 Cultural Studies, Periodical
First Edition
Soft cover, perfect binding
29 x 21 cm
Texts in English
New
EUR 25
ORDER
V. Vale, Andrea Juno, Modern Primitives, RE/Search, 1989
The book consists of a collection of twenty two interviews and two essays with individuals and key figures involved the field of body modification in the late 1980s. It was one of the first documents to attempt to comprehensively cover the re-emergence and increasing popularity of tattooing, piercing, scarification, corsetry, sideshow, ritual and other practices in contemporary Western Society.