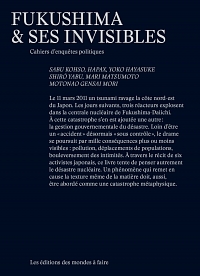 Anthropocene
First Edition
Softcover
192 pages
18 x 13 cm
Texts in French
New
EUR 16
ORDER
Coll., Cahiers d'enquêtes politiques : Fukushima & ses invisibles., Les éditions des mondes à faire, 2018
Le 11 mars 2011 un tsunami ravage la côte nord-est du Japon. Les jours suivants, trois réacteurs explosent dans la centrale nucléaire de Fukushima-Daiichi. À cette catastrophe s'en est ajoutée une autre : la gestion gouvernementale du désastre. Loin d'être un « accident » désormais « sous contrôle », le drame se poursuit par mille conséquences plus ou moins visibles : pollution, déplacements de populations, bouleversement des intimités. À travers le récit de six activistes japonais, ce livre tente de penser autrement le désastre nucléaire. Un phénomène qui remet en cause la texture même de la matière doit, aussi, être abordé comme une catastrophe métaphysique.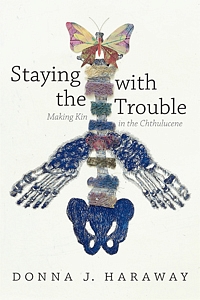 Anthropocene
First Edition
Softcover
312 pages
Texts in English
New
EUR 32
ORDER
Donna Haraway, Staying with the Trouble. Making Kin in the Chthulucene, Duke Press, 2016
In the midst of spiraling ecological devastation, multispecies feminist theorist Donna J. Haraway offers provocative new ways to reconfigure our relations to the earth and all its inhabitants. She eschews referring to our current epoch as the Anthropocene, preferring to conceptualize it as what she calls the Chthulucene, as it more aptly and fully describes our epoch as one in which the human and nonhuman are inextricably linked in tentacular practices. The Chthulucene, Haraway explains, requires sym-poiesis, or making-with, rather than auto-poiesis, or self-making. Learning to stay with the trouble of living and dying together on a damaged earth will prove more conducive to the kind of thinking that would provide the means to building more livable futures. Theoretically and methodologically driven by the signifier SF—string figures, science fact, science fiction, speculative feminism, speculative fabulation, so far—Staying with the Trouble further cements Haraway's reputation as one of the most daring and original thinkers of our time.