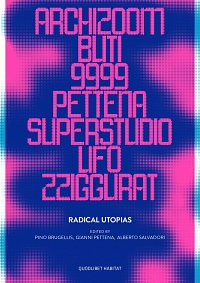 Architecture
Softcover
352 pages
24 x 17 cm
Texts in English
New
EUR 43
ORDER
Pino Brugellis, Gianni Pettena, Alberto Salvadori, Radical Utopias: Archizoom, Remo Buti, 9999, Gianni Pettena, Superstudio, UFO, Zziggurat, Quodlibet, 2017
Radical Utopias is the title of an exhibition that presents each of the Florentine radical architects half a century after their movement began. Emerging during a fertile moment of crisis, a period marked by the tragic flood in Florence in 1966, and characterized, throughout Italy, by strong political and social tension, but also by great artistic and linguistic renewal, the works of Archizoom, Remo Buti, 9999, Gianni Pettena, Superstudio, UFO, and Zziggurat can be seen in the major museums around the world. The writings, drawings, and projects of the seven protagonists are still in circulation and have influenced generations of architects, historians, designers and artists from many countries.
This is, therefore, the first book ever to offer readers the chance to view all their theoretical and visual work. Furthermore, thanks to an accurate reconstruction of the context in which the movement developed, it provides a unique and to a certain extent still unexplored panorama of one of the twentieth-century's capitals of architecture.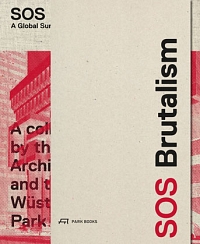 Anthology, Architecture
First Edition
Softcover
716 pages
27 x 22 cm
Texts in English
New
EUR 64
out of stock
Peter Cachola Schmal, Oliver Elser, Filipp Kurz, SOS BRUTALISM. A Global Survey, Park Books, 2017
The first-ever global survey of brutalist architecture from the 1950s to the 1970s, based on research project carried out collaboratively by Deutsches Architekturmuseum DAM and Wüstenrot Foundation.

"SOS Brutalism" is a distress signal. Since the 1950s, eminent architects around the world have realized buildings expressing an uncompromising attitude. Predominantly, yet not exclusively, they used exposed concrete, or béton brut (hence the term brutalism), for the construction. Today, many of these always controversially discussed buildings are in danger of demolition or, at least, of reconstruction that often may change their appearance beyond recognition. In recent years, an initiative to protect and preserve this significant global heritage of 20th-century architecture has gained momentum, mainly in the internet.

The result of this research to date is a global survey of brutalist architecture of the 1950s, 1960s and 1970s, presented in an exhibition at DAM in autumn 2017 and a coinciding and uniquely comprehensive book. Some 100 contributors document around 120 key buildings from this period, including many previously unpublished discoveries that are in acute danger of loss through neglect of intended demolition. Moreover, the book features overviews of brutalism in architecture in twelve regions around the world. Case studies of hotspots such as the Macedonian capital Skopje or New Haven, Connecticut, and essays on the history and theory of brutalism round out this lavishly illustrated book. The supplement collects papers of an international symposium on brutalism in architecture held in Berlin in 2012.