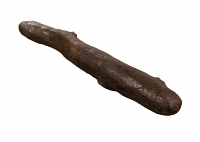 Multiple
Edition of 15
80 x 15 cm
New
EUR 300
ORDER
Marlie Mul, Bam Bam' (bæm bæm), 2015
Edition of hand carved caveman clubs based on Marlie Mul's large-scale installation 'Ug' (Ug), 'Duh' (dǝ), 'Muh' (mɜːɹ), 'Bam Bam' (bæm bæm)' that was a part of her solo exhibition Arbeidsvitaminen at Vilma Gold in 2015.
Materials: polyurethane, paper, sand, glue, varnish. Hand carved.
[Click on the image and browse with the arrows for more images]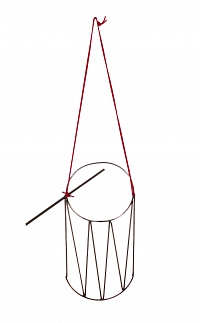 Multiple
Edition of 10
EUR 300
ORDER
Miriam Laura Leonardi, Tambour et ses baguettes, 2015
Artist edition, handmade, signed and numbered
Material: welded iron rods, red cord
Dimensions: drum 42 x 24 cm, sticks 30 cm
Multiple
51 x 61 cm
New
EUR 35
ORDER
Eckhaus Latta, Vulnerability Beach Bag, Art Metropole, 2014
Eckhaus Latta's Vulnerability Beach Bag is a woven polypropylene bag with silk screened and colour stamped graphic on both sides produced on the occasion of Art Metropole's presence at Art Basel 2014 as a part of the shop's tradition of artist-designed shopping bags.
Eckhaus Latta is a bicoastal American fashion label founded by Mike Eckhaus and Zoe Latta. While most of their projects centralize around fashion, this mesh beach bag is a further exploration into their poetry practice.