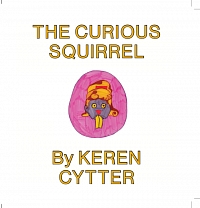 Children's book
First Edition
Softcover
Texts in English
New
EUR 13
ORDER
Keren Cytter, The Curious Squirrel, Pork Salad Press, 2015
The Curious Squirrel is the first in a series of three children books by Keren Cytter. The Curious Squirrel was originally written 10 years ago, but this is the first time that it has been published. It is a short tale about a baby squirrel that is asked by its mother Mrs Fox to go and buy some milk at the local grocery store. On the way the curious squirrel to buy milk it meets The Beggar Rabbit, The Notorious Junky Goose, Mrs Donkey, Mr Elephant among others and the story takes off from there.
Children's book
First Edition
Hardcover
32 pages
35 x 25 cm
Texts in French
Normal used condition
EUR 40
out of stock
George Sand, Brise et Rose, éditions des femmes, 1977
Un conte de George Sand pour sa petite fille, illustré par Nicole Claveloux, qui raconte une histoire d'amour entre la brise et les roses.
"Quand j'étais enfant, ma chère Aurore, j'étais très tourmentée de ne pouvoir saisir ce que les fleurs se disaient entre elles. Mon professeur de botanique m'assurait qu'elles ne disaient rien : soit qu'il fût sourd, soit qu'il ne voulût pas me dire la vérité, il jurait qu'elles ne disaient rien du tout. Je savais bien le contraire"

éditions des femmes
(du côté des petites filles, des femmes éditent)