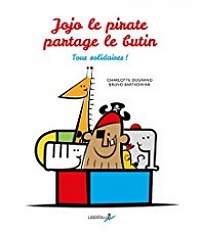 Children's book
First Edition
Hardcover
32 pages
25 x 21 cm
Texts in French
New
EUR 19
ORDER
Charlotte Dugrand, Bruno Bartkowiak, Jojo le pirate partage le butin, Libertalia, 2015
Jojo le pirate et ses amis sillonnent la mer des Caraïbes. Ils ont trouvé un délicieux trésor, un coffre rempli de sucreries…
C'est l'heure du partage. Chacun dit ce qu'il veut, mais comment partager le butin équitablement ? Jojo répartit les friandises en parts égales, mais Gigi-la-Vigie, qui s'était endormie, manque à l'appel… Catastrophe ! Il manque une part.
Alors que fait-on ? On ne donne rien à Gigi ? On lui donne chacun un bonbon ? Non, il va falloir tout recommencer.
C'est cela être solidaire avec ses copains. Même si certains ne sont pas de cet avis…
L'histoire de Jojo le pirate s'adresse aux 3-5 ans. Cinq personnages composent l'histoire : Jojo le pirate, Pilon (le zèbre à la jambe de bois), Trompette (l'éléphant), Capitaine Cocotte (la poule au crochet) et Gigi-la-Vigie (la girafe). L'histoire est une réflexion sur le partage et le fait d'être solidaire avec ses amis. Le capitaine n'est pas un garçon, mais une petite poule. Les illustrations laissent une part importante d'interprétation aux enfants et aux parents. On retrouve les classiques de la piraterie, mais aussi une autre philosophie que celle véhiculée d'ordinaire sur les pirates. A bord de leur bateau, il n'y a pas de chef, ils partagent le trésor en parts égales et prennent les décisions en commun.
À l'abordage !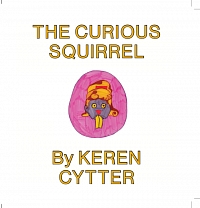 Artist's book, Children's book
First Edition
Softcover
Texts in English
New
EUR 13
ORDER
Keren Cytter, The Curious Squirrel, Pork Salad Press, 2015
The Curious Squirrel is the first in a series of three children books by Keren Cytter. The Curious Squirrel was originally written 10 years ago, but this is the first time that it has been published. It is a short tale about a baby squirrel that is asked by its mother Mrs Fox to go and buy some milk at the local grocery store. On the way the curious squirrel to buy milk it meets The Beggar Rabbit, The Notorious Junky Goose, Mrs Donkey, Mr Elephant among others and the story takes off from there.