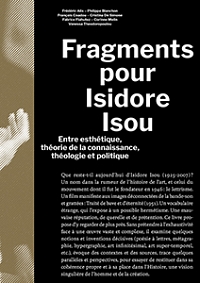 Monograph
First Edition
Softcover
152 pages
24 x 15 cm
Texts in French
New
EUR 15
out of stock
François Coadou, Fragments pour Isidore Isou, Art Book Magazine, 2017
Que reste-t-il aujourd'hui d'Isidore Isou (1925-2007) ? Un nom dans la rumeur de l'histoire de l'art, et celui du mouvement dont il fut le fondateur en 1946 : le lettrisme. Un film manifeste aux images déconnectées de la bande-son et grattées : Traité de bave et d'éternité (1951). Un vocabulaire étrange, qui l'expose à un possible hermétisme. Une mauvaise réputation, de querelle et de prétention. Ce livre propose d'y regarder de plus près. Sans prétendre à l'exhaustivité face à une œuvre vaste et complexe, il examine quelques notions et inventions décisives (poésie à lettres, métagraphie, hypergraphie, art infinitésimal, art super-temporel, etc.), évoque des contextes et des sources, trace quelques parallèles et perspectives, pour essayer de restituer dans sa cohérence propre et à sa place dans l'Histoire, une vision singulière de l'homme et de la création.

Qu'est-ce qu'être contemporain ? Être déphasé par rapport au donné du présent ; savoir qu'il est construit, autrement dit déconstructible et reconstructible : se le réapproprier en tant qu'il est Histoire. Au croisement de l'art et du politique, la collection « Perspectives inactuelles » propose par des reprises historiques et philosophiques précises d'y contribuer.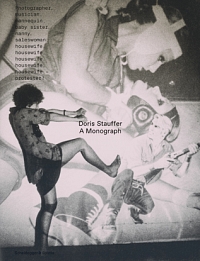 Monograph
First Edition
Softcover
212 pages
30 x 23 cm
Texts in English
New
EUR 48
out of stock
Mara Züst, Simone Koller, Doris Stauffer: A Monograph, Scheidegger & Spiess, 2015
In addition to her contributions to art criticism, Doris Stauffer has produced an impressive body of artistic work that consists of photography, sculpture, and collage. The subject of exhibitions in her native Switzerland, Stauffer is among the founders of the F + F School of Experimental Design, and her explorations of form and color have long been recognized for engaging with feminism and the existing conventions and hierarchies within society.

With more than three hundred illustrations, Doris Stauffer documents for the first time the life and work of this important twentieth-century artist with a focus on her political engagement. Essays place Stauffer's work in historical and political context, including her involvement with the Swiss women's liberation movement and an interview in which the artist imagines alternative forms of feminism and art education. Additional essays look at the influence of Stauffer on other female artists, as well as some of the recurring themes in her art, including fairy tales and other forms of narration.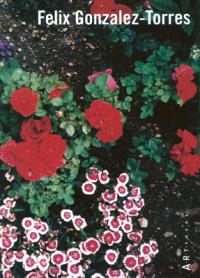 Monograph
First Edition
Soft cover, perfect binding
160 pages
Texts in English
New
EUR 45
out of stock
Felix Gonzales-Torres, Felix Gonzales–Torres, A.R.T. Press, 1994
Interviewed by Tim Rollins, essays by Susan Cahan and Jan Avgikos
Felix Gonzales-Torres is best known for installations and public artworks that invite the viewer's direct participation. In this interview Gonzales-Torres talks about his commitment to social change and his understanding of his role as an artist in effecting that change.
Gonzalez-Torres: "I wanted to make a show that would disappear completely. It had a lot to do with disappearance and learning. It was also about trying to be a threat to the art-marketing system, and also, to be really honest, it was about being generous to a certain extent. […] Freud said that we rehearse our fears in order to lessen them. In a way this "letting go" of the work – this refusal to make a static form, a monolithic sculpture, in favor of a disappearing, changing, unstable, and fragile form – was an attempt on my part to rehearse my fears of having Ross disappear day by day right in front of my eyes."