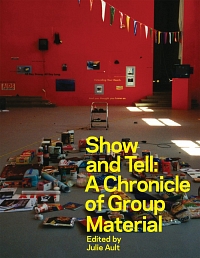 Exhibition catalogue
First Edition
Softcover
272 pages
28 x 22 cm
Texts in English
New
EUR 36
ORDER
Julie Ault, Show & Tell: A Chronique of Group Material, Four Corners Books, 2010
This is the first monograph celebrating Group Material, the New York-based artists collaborative known for its socio-political art practice. Collated by former group members, the book charts the development, projects and contexts of the group's activities, drawing heavily from the group's own archive and including original documents, photographs, drawings, correspondence, artefacts and texts. 45 projects from the group's lifetime (1979–1996) are represented through installation photography, original proposals, exhibition statements, press releases, and responses, while the emblematic exhibition project 'AIDS Timeline' is examined in detail, including in newly conducted interviews.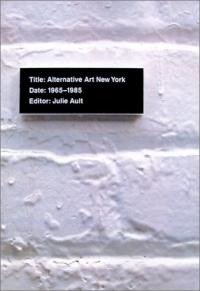 Criticism/Theory, Source Book
First Edition
Soft cover, perfect binding
408 pages
Texts in English
New
EUR 25
out of stock
Julie Ault, Alternative Art New York, 1965–1985, University Of Minnesota Press, The Drawing Center, 2003
By the mid-1960s, New York's art establishment-its major museums and galleries-had ceased to reflect the city's diversity and had largely ignored the decade's social, political, and cultural ferment. In response, marginalized artists created an oppositional network of organizations, exhibit spaces, and cooperative galleries that both paralleled and challenged the status quo. This alternative art movement flourished for more than two decades, repositioning New York at the center of international contemporary art. Alternative Art New York brings together a diverse group of artists and critics to explore the origins and evolution of this diffuse and vibrant cultural scene from a variety of perspectives: political, philosophical, organizational, economic, and aesthetic.
Locating the movement within both the art world and its larger social and political context, these authors decipher the shifting configurations of cultural power in this period and the complex relationship between the mainstream and the marginal. With a unique, annotated chronology of the alternative art scene from 1965 to 1985, and illustrated with 150 images of key works, installations, and exhibits; reproductions of posters, communiqués, and other ephemera; and photographs of protests and meetings, this volume is an important work of contemporary art history and a valuable sourcebook that suggests the basis for the return of an artist-driven cultural economy.
Contributors: Martin Beck, Juli Carson, Jim Cornwell, David Deitcher, Arlene Goldbard, Miwon Kwon, Lucy R. Lippard, Alan Moore, Brian Wallis