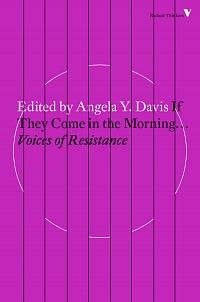 Criticism/Theory
Second Edition
Softcover
288 pages
Texts in English
New
EUR 12
ORDER
Angela Davis, If They Come in the Morning … Voices of Resistance, Verso
One of America's most historic political trials is undoubtedly that of Angela Davis. Opening with a letter from James Baldwin to Davis, and including contributions from numerous radicals such as Black Panthers George Jackson, Huey P. Newton, Bobby Seale and Erica Huggins, this book is not only an account of Davis's incarceration and the struggles surrounding it, but also perhaps the most comprehensive and thorough analysis of the prison system of the United State.
Since the book was written, the carceral system in the US has seen unprecedented growth, with more of America's black population behind bars than ever before. The scathing analysis of the role of prison and the policing of black populations offered by Davis and her comrades in this astonishing volume remains as pertinent today as the day it was first published.
Featuring contributions from George Jackson, Bettina Aptheker, Bobby Seale, James Baldwin, Ruchell Magee, Julian Bond, Huey P. Newton, Erika Huggins, Fleeta Drumgo, John Clutchette, and others.

First published in 1971.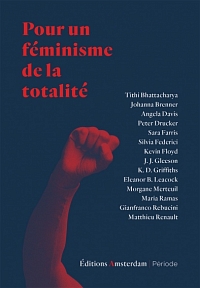 Criticism/Theory
First Edition
Softcover
420 pages
Texts in French
New
EUR 28
ORDER
Coll., Pour un féminisme de la totalité, Éditions Amsterdam, Période, 2017
Le féminisme fait souvent office de faire-valoir à tous les programmes, émancipateurs ou non. Du côté du bloc au pouvoir, les « droits des femmes » sont devenus un argument du maintien de l'ordre, des lois islamophobes à la politique d'incarcération des non-Blancs. Parmi les progressistes, le féminisme est une lutte parmi d'autres, qu'on cite volontiers entre l'antilibéralisme et la défense de l'environnement. À l'inverse, ce livre propose de donner toute sa portée au féminisme, de restaurer sa vocation révolutionnaire, de clarifier sa contribution à tout projet de bouleversement de l'ordre des choses. En quoi transformer la famille, la sexualité, l'organisation de la reproduction sociale et biologique, le travail domestique ou encore le travail affectif implique-t-il de révolutionner la vie quotidienne, la santé, la culture, le travail salarié, le logement, la vie collective, les allocations sociales ? Comment les apports du féminisme noir permettent-ils de repenser le dépérissement de l'État ?
Ce recueil, regroupant des textes fondateurs du féminisme marxiste et des articles plus contemporains, est un manuel à l'usage de celles et ceux qui ne se satisfont pas de transformations partielles, mais qui entendent changer le système dans sa totalité.

Avec des contributions de Eleanor B. Leacock, Matthieu Renault, Johanna Brenner et Maria Ramas, Tithi Bhattacharya, Sara Farris, Silvia Federici, K. D. Griffiths et J. J. Gleeson, Kevin Floyd, Johanna Brenner, Morgane Merteuil, Peter Drucker, Gianfranco Rebucini et Angela Davis.
Ouvrage dirigé par Félix Boggio Éwanjé-Épée, Stella Magliani-Belkacem, Morgane Merteuil et Frédérique Monferrand.