Criticism/Theory, Essays on art
Softcover
88 pages
17 x 11 cm
Texts in English
EUR 15
ORDER
Eyal Weizman, Thomas Keenan, Mengele's Skull: The Advent of a Forensic Aesthetics, Sternberg Press
In 1985, the body of Josef Mengele, one of the last Nazi war criminals still at large, was unearthed in Brazil. The ensuing process of identifying the bones in question opened up what can now be seen as a third narrative in war crime investigations—not that of the document or the witness but rather the birth of a forensic approach to understanding war crimes and crimes against humanity.
In the period coinciding with the discovery of Mengele's skeleton, scientists began to appear in human rights cases as expert witnesses, called to interpret and speak on behalf of things—often bones and human remains. But the aesthetic, political, and ethical complications that emerge with the introduction of the thing in war crimes trials indicate that this innovation is not simply one in which the solid object provides a stable and fixed alternative to human uncertainties, ambiguities, and anxieties.
The complexities associated with testimony—that of the subject—are echoed in the presentation of the object. Human remains are the kind of things from which the trace of the subject cannot be fully removed. Their appearance and presentation in the courts of law and public opinion has in fact blurred something of the distinction between objects and subjects, evidence and testimony.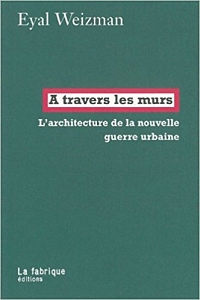 Architecture, Criticism/Theory
First Edition
Paperback
144 pages
Texts in French
New
EUR 18
ORDER
Eyal Weizman, À travers les murs. L'architecture de la nouvelle guerre urbaine, La Fabrique, 2008
Lors de la réoccupation des villes de Palestine au printemps 2002, l'armée israélienne a utilisé une tactique inédite : au lieu de progresser dans les rues tortueuses des vieux quartiers ou des camps de réfugiés, les soldats passaient de maison en maison, à travers murs et planchers, évitant ainsi de servir de cibles aux résistants palestiniens. Cette méthode, «conceptualisée » sous le nom de « géométrie inversée » par des généraux qui aiment à citer Debord, Deleuze et Guattari ou Derrida, représente un tournant postmoderne dans la guerre des villes. Les territoires occupés sont ainsi devenus un laboratoire spatial pour de nouvelles techniques d'attaque, d'occupation et de contrôle de populations, qui sont ensuite exportées aux frontières où se livre la guerre globale. Et inversement, la réflexion sur l'urbanisme est largement passée dans des centres de recherche où des militaires travaillent sur l'art de construire / détruire en s'appuyant sur de pseudo-concepts philosophiques.
Mais Eyal Weizman montre que ces idées nouvelles – substrat d'une querelle des Anciens et des Modernes dans l'armée israélienne – n'ont pas été étrangères au fiasco libanais de l'été 2006.