Exhibition catalogue
First Edition
Hardcover
288 pages
Texts in English
New
EUR 68
ORDER
Manuela Ammer, Achim Hochdörfer, David Joselit, Painting 2.0. Expression in the Information Age, Prestel, 2016
This catalogue is published on the occasion of the exhibition Painting 2.0: Expression in the Information Age at mumock, Vienna, from June 4 to November 6, 2016, curated by David Joselit and Achim Hochdörfer with Manuela Ammer.

The exhibition places our sustained interest in contemporary painting and the continuous expansion of digital technologies within a surprising historical context. It goes back to the dawn of the information age in the 1960s and shows how painting already then developed in productive friction with mass culture and its media. From the arrival of television to the so-called internet revolution, painting has consistently succeeded in integrating the mechanisms that seemed to herald its own death.

With more than two hundred artworks by more than one hundred artists, Painting 2.0 tells the multifaceted story of painting from the 1960s to the present. Painting is seen as a form of practice that—contrary to canonical accounts—in no way shies away from increasing media realities, but rather faces the challenges head on. One driving force in this development is the collision of visual codes of the spectacle with the traces of painterly expressivity. Painting 2.0 shows that the expressive gesture was again and again connected with the desire to reintegrate the virtual world of the information age into the material realm of the human body. In painting over the last fifty years, the contrary domains of the human and the technological, and the analog and the digital have proven to be intrinsically intertwined.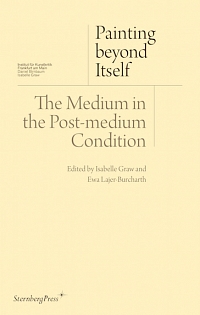 Criticism/Theory
First Edition
Softcover
286 pages
19 x 12 cm
Texts in English
New
EUR 16
ORDER
Isabelle Graw, Ewa Lajer-Burcharth, Painting beyond Itself: The Medium in the Post-medium Condition, Sternberg Press, 2016
In response to recent developments in pictorial practice and critical discourse, Painting beyond Itself: The Medium in the Post-medium Condition seeks new ways to approach and historicize the question of the medium. Reaching back to the earliest theoretical and institutional definitions of painting, this book—based on a conference at Harvard University in 2013—focuses on the changing role of materiality in establishing painting as the privileged practice, discourse, and institution of modernity. Myriad conceptions of the medium and its specificity are explored by an international group of scholars, critics, and artists. Painting beyond Itself is a forum for rich historical, theoretical, and practice-grounded conversation.

Contributions by Carol Armstrong, Benjamin H. D. Buchloh, Sabeth Buchmann, René Démoris, Isabelle Graw, David Joselit, Jutta Koether, Ewa Lajer-Burcharth, Jacqueline Lichtenstein, Julie Mehretu, Matt Saunders, Amy Sillman.