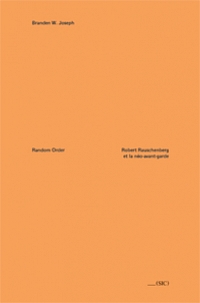 Criticism/Theory
First Edition
Softcover
330 pages
22 x 15 cm
Texts in French
New
EUR 26
ORDER
Branden W. Joseph, Random Order. Robert Rauschenberg et la néo-avant-garde, (SIC), 2012
Par ses célèbres White Paintings, Combines et Combine Paintings, sérigraphies ou performances, Robert Rauschenberg s'est imposé comme l'un des artistes américains majeurs de la seconde moitié du XXe siècle.
Ce livre propose d'examiner son œuvre des années 1950 et 1960 en la situant dans le contexte de la néo-avant-garde américaine, et en insistant notamment sur les relations que l'artiste a pu entretenir avec le compositeur expérimental John Cage. D'après Branden W. Joseph, leur rencontre au Black Mountain College en 1952 est à la base d'un nouveau projet d'avant-garde envisageant la notion de différence non plus en termes de négation mais bien de force positive. L'auteur se démarque ainsi des analyses inspirées par l'Ecole de Francfort – dominant jusqu'alors les débats relatifs à l'esthétique de l'avant-garde et de la néoavant-garde – pour se tourner du côté de Gilles Deleuze, Jacques Derrida, Michel Foucault, Toni Negri et Michael Hardt ou encore Antonin Artaud et Michel Carrouges. Cette approche théorique inédite lui permet de montrer que le projet de Rauschenberg ne consista pas en une simple répétition des procédés à l'œuvre dans la première avant-garde mais en un ensemble de pratiques interrogeant la société d'après-guerre modelée par le spectacle, la marchandisation et le conformisme des masses.

Random Order – qui fit date lors de sa parution originale en 2003 – offre ainsi une analyse pénétrante des œuvres les plus marquantes de Rauschenberg, une redéfinition du paradigme de la néo-avant-garde autant qu'une réflexion sur la subjectivité postmoderne.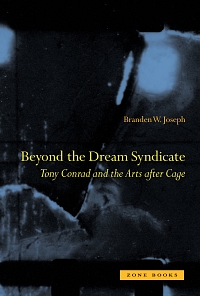 Criticism/Theory
First Edition
Paperback
479 pages
Texts in English
New
EUR 29
ORDER
Branden W. Joseph, Beyond the Dream Syndicate. Tony Conrad and the Arts after Cage, Zone Books, 2008
Tony Conrad has significantly influenced cultural developments from minimalism to underground film, "concept art," postmodern appropriation, and the most sophisticated rock and roll. Creator of the "structural" film, The Flicker, collaborator on Jack Smith's Flaming Creatures and Normal Love, follower of Henry Flynt's radical anti-art, member of the Theatre of Eternal Music and the first incarnation of The Velvet Underground, and early associate of Mike Kelley, Tony Oursler, and Cindy Sherman, Conrad has eluded canonic histories. Yet Beyond the Dream Syndicate does not claim Conrad as a major but under-recognized figure. Neither monograph nor social history, the book takes Conrad's collaborative interactions as a guiding thread by which to investigate the contiguous networks and discursive interconnections in 1960s art.