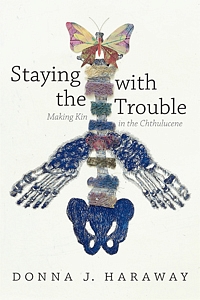 Anthropocene
First Edition
Softcover
312 pages
Texts in English
New
EUR 32
ORDER
Donna Haraway, Staying with the Trouble. Making Kin in the Chthulucene, Duke Press, 2016
In the midst of spiraling ecological devastation, multispecies feminist theorist Donna J. Haraway offers provocative new ways to reconfigure our relations to the earth and all its inhabitants. She eschews referring to our current epoch as the Anthropocene, preferring to conceptualize it as what she calls the Chthulucene, as it more aptly and fully describes our epoch as one in which the human and nonhuman are inextricably linked in tentacular practices. The Chthulucene, Haraway explains, requires sym-poiesis, or making-with, rather than auto-poiesis, or self-making. Learning to stay with the trouble of living and dying together on a damaged earth will prove more conducive to the kind of thinking that would provide the means to building more livable futures. Theoretically and methodologically driven by the signifier SF—string figures, science fact, science fiction, speculative feminism, speculative fabulation, so far—Staying with the Trouble further cements Haraway's reputation as one of the most daring and original thinkers of our time.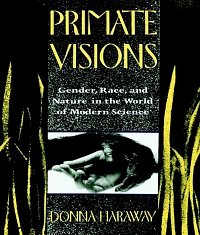 Criticism/Theory
Second Edition
Softcover
480 pages
Texts in English
New
EUR 42
ORDER
Donna Haraway, Primate Visions. Gender, Race and Nature in the World of Modern Science, Verso, 1992
How do we create scientific disciplines and histories of science? How are the issues of race and gender written into the ways we imagine the natural world? Why do we study animals? These fundamental questions are at the heart of primatology - the study of monkeys and apes - in the twentieth century. In Primate Visions historians of biology Donna Haraway builds the primate story - our scientific understanding of apes, monkeys, and humans - and explains its multi-cultural roots, its myths, its relation to gender and race.

Originally published in 1989.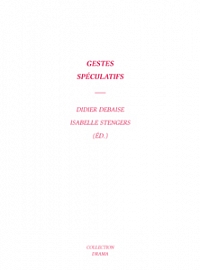 Criticism/Theory
First Edition
Softcover
341 pages
21 x 15 cm
Texts in French
New
EUR 29
ORDER
Isabelle Stengers, Didier Debaise, Gestes spéculatifs, Les presses du réel, 2015
La pensée spéculative trouve aujourd'hui une nouvelle actualité. Ce renouveau est indissociable de la mise en crise généralisée des modes de pensée qui, d'une manière ou d'une autre, devaient leur autorité à une référence au progrès, à la rationalité, à l'universalité. Mise en crise redoutable, car on ne s'écarte pas sans danger de ce qui a servi de boussole à la pensée euro-américaine depuis qu'il est question de modernité. Mise en crise nécessaire, car ces modes de pensées sont sourds à la nouveauté effective de notre époque, à la manière dont la mission de la modernisation à laquelle ils adhéraient vire au cauchemar d'un enchevêtrement de ravages et d'impuissances.
La pensée speculative est trop souvent définie comme purement théorique, abusivement abstraite, ou relevant tout simplement d'un imaginaire déconnecté de toute prise sur le réel. Parler de "gestes spéculatifs", c'est au contraire mettre la pensée sous le signe d'un engagement par et pour des possibles qu'il s'agit d'activer, de rendre perceptibles dans le présent.

Avec des textes de Fleur Courtois-l'Heureux, Didier Debaise, Vinciane Despret, Thierry Drumm, Emilie Hache, Donna J. Haraway, David Jamar, Claude de Jonckheere, Maryam Kolly, Bruno Latour, Pierre Montebello, Tobie Nathan, Nicolas Prignot, Camille Riquier, Alice Rivières, Isabelle Stengers, Lucienne Strivay, Marcelle Stroobants, Katrin Solhdju, Fabrizio Terranova, Graziella Vella, Benedikte Zitouni. Sous la direction d'Isabelle Stengers et Didier Debaise.