Monograph
Softcover
226 pages
32 x 24 cm
Texts in English
New
EUR 80
ORDER
Oscar Tuazon, I Can't See, DoPe Press, 2010
The first comprehensive monograph on the work of American artist Oscar Tuazon, covering the first decade of his career.
I Can't See is co-published with Paraguay Press and features over 250 pages of images of works, documents, and archives articulating three solo exhibitions organized in 2009 and 2010 at the Centre international d'art et du paysage de l'île de Vassivière (France); the Kunsthalle Bern (Switzerland) and the Parc Saint Léger – Centre d'art contemporain (France).
It also features a series of texts by Ariana Reines, Matthew Stadler, Cedar Sigo, Karl Holmqvist, Thomas Boutoux, Carissa Rodriguez, Eileen Myles and David Lewis as well as a long interview with the artist conducted by Chiara Parisi, Philippe Pirotte, and Sandra Patron, the respective curators of the solo exhibitions.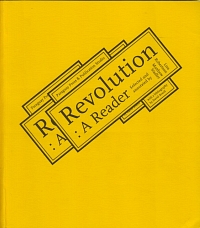 Essays on art
Second Edition
Softcover
1160 pages
Texts in English
New
EUR 30
ORDER
Lisa Robertson, Matthew Stadler, Revolution: A Reader, Paraguay Press, Publication Studio, 2015
Co-published with Publication Studio, Portland, Revolution: A Reader collects texts from across many cultures and times and organizes them roughly along a chronology of living, from "beginning," to "childhood," "education," "adulthood," and "death." The book brings the embodied fact of revolution into the lived present by engaging readers with language that takes us there, no matter where we are to begin with. We are all in revolution, now. Reading can make this fact primary and conscious and shared. Heavily annotated throughout, the book is, quite literally, a conversation. The annotations, by Lisa Robertson and Matthew Stadler — composed simultaneously and in response to one another — stitch a web of argument that links the book into a single thing, a reader. The book also features a narrative bibliography of revolution by David Brazil.
With texts by Kathy Acker, Etel Adnan, Vivienne Westwood, Dodie Bellamy, David Brazil, Edmund Burke, Mina Loy, Mahmoud Darwish, Oscar Wilde, Guy Davenport, Angela Davis, Gertrude Stein, Stacy Doris, Hannah Arendt, Saskia Sassen, Frantz Fanon, Shulamith Firestone, Louise Michel, Eileen Myles, Jean Genet, Michel Ragon, Donna Haraway, Oscar Tuazon and many more.